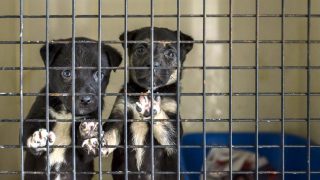 New Hampshire: Help Fight Puppy Mills
This action is for New Hampshire residents only.
On Tuesday, February 25, there's a public hearing on state legislation to fight puppy mills—An Act prohibiting the sale of cats, dogs, and rabbits in retail stores (HB 1388). Filed by Representative Katherine Rogers, this legislation would prohibit the sale of puppies and kittens in retail stores unless made available in partnership with an animal shelter or rescue organization. Pet stores typically acquire their dogs and cats from inhumane commercial breeding facilities, often called "puppy mills" or "kitten mills."
If your state representative is a member of the House Environment & Agriculture Committee, your outreach can be even more impactful.
Pet stores are a preferred sales outlet for puppy mills because they allow the cruelty at the mills to remain hidden from consumers.
You can send an email and/or call your state representative using the toggle buttons noted with the icons below. Phone calls have much more impact than emails. If you're able to make a phone call, please do so.
Related
Tips from the Animal Legal Defense Fund.

Animal Legal Defense Fund and CPM seek to hold Kenney family accountable for defrauding customers and harming dogs in violation of California law

Animal Legal Defense Fund and CAARE continue work to protect animals used in research