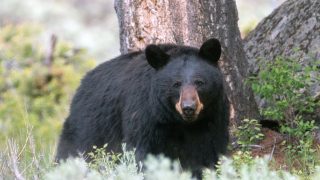 Missouri: Oppose a black bear hunt!
This action is CLOSED.
The Missouri Department of Conservation is about to open a trophy hunting season on the state's still-recovering population of black bears.
Black bears play critical roles in their ecosystem and self-regulate their own populations. This proposal is not founded in science and instead caters to a small minority of trophy hunters. Worse, there are no prohibitions on the killing of unaccompanied cubs themselves, meaning that trophy hunters could target bear cubs who have been separated from their mothers.
Join the Animal Legal Defense Fund's email list to stay up to date on lawsuits, legislation, and regulations affecting animals.
Sign Up Now
Related
Reforms emphasize coexistence with coyotes and other wildlife

Animal Legal Defense Fund moves for contempt order against Cricket Hollow Zoo and owners who removed animals before rescue in violation of court order

Media invited to press briefing after multiple groups work together to rescue animals after court ruling orders their immediate removal from Cricket Hollow Zoo