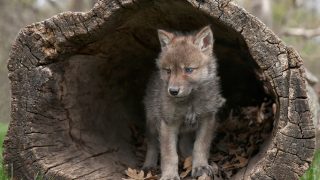 Michigan: Wolves Need Your Quick Action Today
UPDATE: December 27, 2016 – The Animal Legal Defense Fund is disappointed to report that Governor Snyder has ignored the will of Michigan voters and signed SB 1187 into law. While the law is intended to create an open season on wolf hunting in the Upper Peninsula, wolves remain federally protected and the law will not take effect unless the U.S. Fish & Wildlife Service removes those protections.
Actively ignoring the will of the people, the Michigan Senate passed SB 1187, which would label wolves as a game species to be hunted and trapped. The bill is likely to pass the House as well. There are many elements of this bill that we find deeply concerning.
This is the third time Michigan has tried to approve a wolf hunt despite voters soundly rejecting the policy by referendum in 2014.
Because lawmakers know they are going against the will of the people they represent, SB 1187 includes a clause that protects the bill from being subjected to public referendum. In other words, the people of Michigan will not be able to overturn the bill if it's signed in to law. Preventing Michigan voters from being able to directly determine Michigan law is a blatantly undemocratic move.
Once widespread throughout the country, wolf populations have been decimated by hunting trapping and poisoning. Due to their fragile population, wolves of the Great Lakes region are protected under the federal Endangered Species Act. The U.S. Fish & Wildlife Service would have to remove these protections, before SB 1187 could take effect, but this seems likely to happen in the near future. SB 1187 would lay the groundwork for wolves to be killed for sport in Michigan as soon as it does, and regardless of the will of the people of Michigan.
Related
Reward for information leading to the arrest and conviction of the person or people responsible for illegally shooting and killing a red wolf in Tyrrell County, North Carolina.

The lawsuit alleges federally endangered and threatened animals such as the tigers, lions, and ring-tailed lemurs are receiving inadequate care at Tiger Creek

Thanks to Animal Legal Defense Fund supporters, a tiger named Nila, two lions — Buddy and Missa, two ring-tailed lemurs, a Mikado pheasant, a military macaw, and a blue-and-gold macaw will at last have access to species-appropriate habitats and enrichment.