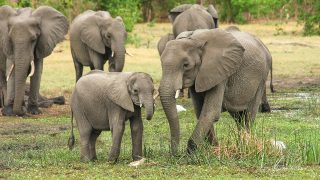 Massachusetts: Stop Ivory and Rhinoceros Horn Trafficking
This action is for Massachusetts residents only.
Help end Massachusetts' role in the global poaching crisis by taking a stand against wildlife trafficking! Ask your state legislators to support An Act Preventing Trafficking in Ivory and Rhino Horns (S.496), which would restrict the sale, trade, and distribution of ivory and rhino horn in the Commonwealth.
This bill has been released with a favorable report by the Joint Committee on Environment, Natural Resources and Agriculture and referred to the Senate Committee on Ways and Means.
Despite increased education about the devastating impact of poaching on elephants and rhinos, the illegal ivory trade has doubled since 2007 globally. Elephants and rhinos killed for their tusks and horns are often chased and then shot with military-grade weapons. Their faces are mutilated to harvest the tusks and horns, sometimes while the animal is still alive.
Though the federal government enacted a near-total ban on commercial elephant ivory trade three years ago, it doesn't regulate trade within a state (it only impacts import into the U.S. and trade between states). S.496 would close that loophole in Massachusetts.
Please contact your state senator today and tell them that you support the S.496 to protect elephants and rhinos.
Join the Animal Legal Defense Fund's email list to stay up to date on lawsuits, legislation, and regulations affecting animals.
Sign Up Now
Related
Animal Legal Defense Fund letter asks Puerto Rico governor to investigate illegal treatment of endangered species and other animals at Dr. Juan A. Rivero National Zoological Park

The Animal Legal Defense Fund is deeply saddened by the death of elephants Beulah and Karen and is committed to supporting legislation pending in Massachusetts to prohibit the use of elephants and certain other wild animals used in circuses.

Dr. Juan A. Rivero National Zoological Park has been illegally operating without federal license for more than a year.