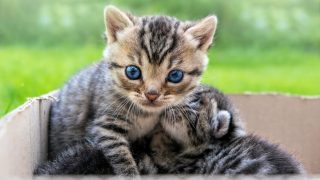 Massachusetts: Protect Puppies and Kittens
This action is for Massachusetts residents only.
Puppies and kittens are among the most vulnerable animals there are.
Pending legislation would protect animals and consumers by:
prohibiting the sale of puppies and kittens under 8 weeks of age;
updating rules and regulations for business-related kennels used for boarding, doggie daycare, or breeding;
ending the roadside sale of animals;
updating laws relating to kennel licensing; and
clarifying that the law does not consider dogs and cats "livestock."
These commonsense changes would make Massachusetts a safer and more humane place for puppies, kittens, and their guardians. You can help this important bill become law by emailing your state legislators to support An Act Protecting the Health and Safety of Puppies and Kittens in Cities and Towns (H.2148/S.1322) using the form below.
Join the Animal Legal Defense Fund's email list to stay up to date on lawsuits, legislation, and regulations affecting animals.
Sign Up Now
Related
The Los Angeles Superior Court has granted a preliminary injunction that halts the Kenneys, unscrupulous internet puppy sellers, from advertising and selling puppies until the lawsuit is decided on the merits.

Animal Legal Defense Fund challenges the renewed license for the owner of Wildlife on Wheels after evidence has revealed ongoing violations for more than a decade

A Courtroom Animal Advocate Program (CAAP) bill, S.2868/A.4533, which would allow law students and volunteer lawyers to advocate for animal victims in cruelty criminal cases, unanimously passed the New Jersey Senate. The bill is sponsored by Senator Nicholas Scutari and Assemblyman Raj Mukherji and endorsed by the Animal Legal Defense Fund.