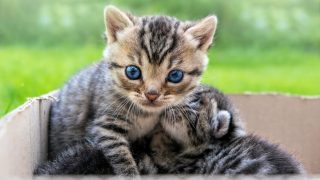 Massachusetts: Protect Puppies and Kittens
This action is for Massachusetts residents only.
Puppies and kittens are among the most vulnerable animals there are. Pending legislation in Massachusetts would protect animals and consumers by:
prohibiting the sale of puppies and kittens under 8 weeks of age;
updating rules and regulations for business-related kennels used for boarding, doggie daycare, or breeding;
ending the roadside sale of animals;
updating laws relating to kennel licensing; and
clarifying that the law does not consider dogs and cats "livestock."
These commonsense changes would make Massachusetts a safer and more humane place for puppies, kittens, and their guardians.
You can help this important bill become law by emailing your state legislators to support An Act Protecting the Health and Safety of Puppies and Kittens in Cities and Towns (H.2148/S.1322) using the form below.
Join the Animal Legal Defense Fund's email list to stay up to date on lawsuits, legislation, and regulations affecting animals.
Sign Up Now
Related
The California Court of Appeals affirmed a ruling by a lower court recognizing Society for the Prevention of Animal Cruelty (SPCA) organizations' ability to file lawsuits against entities that violate existing animal protection laws.

Huston narrates the Animal Legal Defense Fund film demonstrating the impact legal advocates can have on behalf of animal cruelty victims

Class-action lawsuit alleges thousands in California purchased dogs under the false belief they were rescue animals