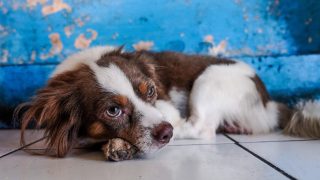 Massachusetts: Help Move Key Animal Protection Bills Out of Committee
This action is for Massachusetts residents only.
The May 8, 2020, extension deadline for these two animal protection bills is approaching, and your legislators need to hear from you.
Especially if your legislator is a member of the Joint Committee on Municipalities and Regional Government, please contact your legislator in support of these key animal protection bills.
SUPPORT: An Act Protecting the Health and Safety of Puppies and Kittens in Cities and Towns (114/H.1774) would establish standards for the protection of dogs and cats being sold to consumers as well as those being kept at doggie daycares, boarding kennels, and breeding kennels.
SUPPORT: An Act Enhancing the Issuance of Citations for Cruel Conditions for Animals(1822) would ensure law enforcement officers are able to issue civil citations for keeping any domestic animal in cruel conditions—expanding on the current law that only applies to dogs—as well as upgrade the current law protecting dogs kept outdoors.
OPPOSE: Despite its misleading title, An Act to Protect Pets in the Commonwealth (1773) would actually threaten the welfare of puppies and kittens and limit consumer protections. It would explicitly allow pet stores to source from some of the worst puppy mills in the nation; the puppy sourcing provisions in the bill are weak and unenforceable and the remedy provisions provide consumers who were sold sick puppies and kittens with wholly inadequate remedies.
You can send an email and/or call your state representative and state senator using the toggle buttons noted with the icons below. Phone calls have much more impact than emails. If you're able to make a phone call, please do so.
Join the Animal Legal Defense Fund's email list to stay up to date on lawsuits, legislation, and regulations affecting animals.
Sign Up Now
Related
As shelter-in-place orders are given across the nation, there is a growing concern that family violence will be on the rise.

The Animal Legal Defense Fund is offering advice on what you should prepare for your animals' care, should the primary caregivers of pets be unavailable.

The Animal Legal Defense Fund, the nation's leading legal advocacy organization for animals, has tips for how you can make sure your companion animals sail through even the worst weather winter has to offer.