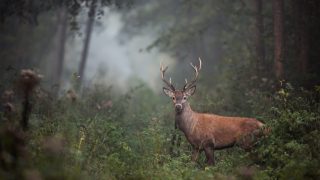 Massachusetts: Crack Down on Illegal Hunting
THIS ACTION IS FOR MASSACHUSETTS RESIDENTS ONLY.
Crack down on illegal hunting and fishing in Massachusetts by urging your legislators to support H.4131, An Act Further Regulating the Enforcement of Illegal Hunting Practices.
This bill makes two important changes to Massachusetts law: (1) it modernizes penalties for illegal hunting, some of which are out of date by nearly a century, and (2) enters Massachusetts in the Interstate Wildlife Violator Compact, ending the state's status as a safe-haven for those whose hunting, trapping, or fishing licenses have been suspended in any of the 48 member states.
Illegal hunting is a serious problem in the Commonwealth – with nearly a thousand known hunting violations, including killing protected species and killing animals out of season, occurring annually. Every year, the animal victims of illegal hunting, often injured or orphaned, turn up with greater frequency at wildlife rehabilitation centers.
Help prevent convicted wildlife poachers from hunting in Massachusetts by asking your legislators to update Massachusetts' outdated hunting laws. Please call your state representative and state senator, then send follow-up emails, urging them to support H.4131.
THIS ACTION IS FOR MASSACHUSETTS RESIDENTS ONLY.
Join the Animal Legal Defense Fund's email list to stay up to date on lawsuits, legislation, and regulations affecting animals.
Sign Up Now
Related
Arthur Zoo wildlife park withdraws permit application after criticism.