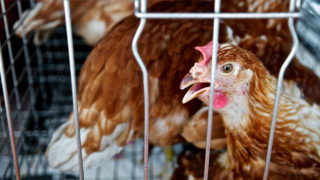 Massachusetts: Ask Your State Representatives to Include Protections for Egg-Laying Hens in the Budget
This action is for Massachusetts residents only.
In 2016, Massachusetts voters overwhelmingly passed what at the time was the strongest law for farmed animals in history. Since its passage, leading retailers, producers, and other states have established even stronger standards in the nationwide transition to cage-free conditions for hens.
A bill that would upgrade hen welfare and establish uniform cage-free standards (HD 596/S.36) to meet these higher standards is pending in the Massachusetts Legislature. But as we work to pass this bill, there's another opportunity to increase protections for egg-laying hens by including these protections in the state budget.
Egg-laying hens are among the most abused animals in the country yet have few legal protections. The bill language would mandate egg-laying hens be able to engage in certain vital natural behaviors such as perching, nesting in boxes, dust bathing, and fully extending their wings. Please ask your state representative to support including the bill language in the state budget.
You can send an email and/or call your representative using the toggle buttons noted with the icons below.
Join the Animal Legal Defense Fund's email list to stay up to date on lawsuits, legislation, and regulations affecting animals.
Sign Up Now
Related
The Animal Legal Defense Fund released the second in a series of white papers — COVID-19 and Factory Farming —providing policy recommendations to address industrial animal agriculture's role in our heightened risk for zoonotic diseases outbreaks, like COVID-19, and its potential to be the source of the next global pandemic.

Lawsuit Challenges Law Designed to Disadvantage Plant-Based Products

Animal Legal Defense Fund sues Foster Farms for violating California law by using cruel, water-intensive slaughter method during megadrought