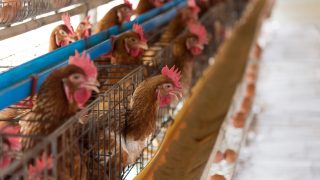 Massachusetts: Ask the Attorney General to Protect Egg-Laying Hens
This action is for Massachusetts residents only.
The Massachusetts Attorney General's Office is accepting public comments on regulations implementing An Act to Prevent Cruelty to Farm Animals, also known as Question 3, which will take effect in 2022. This landmark law will end the intensive confinement of egg-laying hens, as well as mother pigs and calves raised for veal.
Please submit a comment by 5:00 PM, Tuesday, February 23rd, to Massachusetts Attorney General Maura Healey politely asking her to continue her good work with the legislature in support of the bill currently pending in the state legislature that would upgrade standards for egg-laying hens, An Act to upgrade hen welfare and establish uniform cage-free standards, filed by Representative Dan Cahill and Senator Jason Lewis, as well as for the Attorney General's Office to develop regulations that mirror these critical updates.
These updates include mandating egg-laying hens be able to engage in certain vital natural behaviors such as perching, nesting in boxes, dust bathing, and fully extending their wings. On the vast majority of factory farms, these birds spend their entire lives confined to spaces so small that they can't even stretch their wings. Additionally, the updates expand the covered egg products to include "liquid eggs" (those often used at restaurants) as well as "shell eggs" as products that have to come from egg operations that meet this standard.
Use the form below to submit a comment.
Join the Animal Legal Defense Fund's email list to stay up to date on lawsuits, legislation, and regulations affecting animals.
Sign Up Now
Related
The Animal Legal Defense Fund released the second in a series of white papers — COVID-19 and Factory Farming —providing policy recommendations to address industrial animal agriculture's role in our heightened risk for zoonotic diseases outbreaks, like COVID-19, and its potential to be the source of the next global pandemic.

Lawsuit Challenges Law Designed to Disadvantage Plant-Based Products

Animal Legal Defense Fund sues Foster Farms for violating California law by using cruel, water-intensive slaughter method during megadrought