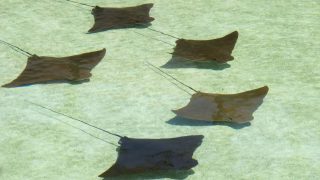 Maryland: Ask Your State Legislators to Protect Cownose Rays from Killing Contests
This action is for Maryland residents only.
THIS ACTION IS CLOSED.
Protect Maryland's wildlife and speak out against cruel cownose ray killing contests. Cownose rays are gentle fish who travel from Florida to the Chesapeake Bay every year to give birth. Prior to 2017, it was legal in Maryland to hold killing contests, where the person who killed the largest cownose ray won a prize. During these contests, rays – including pregnant rays and newborn pups – were shot and then bludgeoned to death or left to suffocate in barrels.
In 2017, Governor Hogan signed into law a temporary moratorium on these killing contests and instructed the Maryland Department of Natural Resources (DNR) to develop a plan to protect the species' long-term survival. However, the DNR failed to create a plan, and the moratorium is set to end this summer. HB 213/SB 143 extends the moratorium until the DNR completes a plan.
Killing cownose rays for entertainment is inhumane and out of step with Maryland residents' values.
Tell your Maryland legislators to enact HB 213/SB 143 and protect rays from killing contests.
THIS ACTION IS FOR MARYLAND RESIDENTS ONLY
Join the Animal Legal Defense Fund's email list to stay up to date on lawsuits, legislation, and regulations affecting animals.
Sign Up Now
Recent News
Long-time Miami resident asks Senators Marco Rubio and Rick Scott to co-sponsor the Big Cat Public Safety Act

The Animal Legal Defense Fund works at the state and local levels to advance important legislation. We advocate for laws that promote or protect the lives and interests of animals, and we oppose legislation that would…

The Animal Legal Defense Fund is looking for supporters who believe they purchased Perdue Farms "Fresh" or "Fresh Cuts" products. Please provide as much detail as possible and — if you qualify — someone from our…