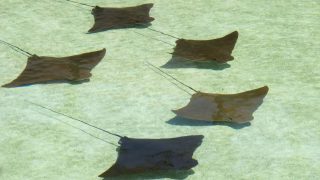 Maryland Residents: Ask Your State Legislators to Protect Cownose Rays from Killing Contests
This action is for Maryland residents only.
THIS ACTION IS CLOSED.
Protect Maryland's wildlife and speak out against cruel cownose ray killing contests. Cownose rays are gentle fish who travel from Florida to the Chesapeake Bay every year to give birth. Prior to 2017, it was legal in Maryland to hold killing contests, where the person who killed the largest cownose ray won a prize. During these contests, rays – including pregnant rays and newborn pups – were shot and then bludgeoned to death or left to suffocate in barrels.
In 2017, Governor Hogan signed into law a temporary moratorium on these killing contests and instructed the Maryland Department of Natural Resources (DNR) to develop a plan to protect the species' long-term survival. However, the DNR failed to create a plan, and the moratorium is set to end this summer. HB 213/SB 143 extends the moratorium until the DNR completes a plan.
Killing cownose rays for entertainment is inhumane and out of step with Maryland residents' values.
Tell your Maryland legislators to enact HB 213/SB 143 and protect rays from killing contests.
THIS ACTION IS FOR MARYLAND RESIDENTS ONLY
Recent News
A dangerous bill, SB 1884, aimed at stopping whistleblowers from exposing animal cruelty is moving quickly through the Texas legislature. This bill has already passed the Texas Senate – your voice is urgently needed to prevent it from becoming law.

While it may seem like commonsense given how often we hear about animal cruelty crimes, the concept that animals can be crime victims is revolutionary within the legal system.

Join the Animal Legal Defense Fund for The Lone Star Update on Animal Law! This CLE (continuing legal education) event will provide attendees the opportunity to hear from experts in the Texas animal law community.