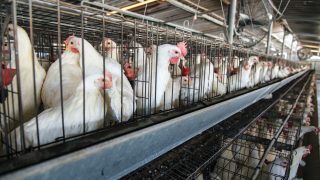 Maine: Urge State Legislators to Upgrade Care Standards for Egg-Laying Hens
THIS ACTION IS CLOSED.
THIS ACTION IS FOR MAINE RESIDENTS ONLY.
We need your help to urge the Maine Legislature to consider an important bill, LR 2897, that would ensure egg-laying hens are able to engage in vital natural behaviors such as perching, nesting in boxes, dust bathing, and fully extending their wings.
Right now, the Legislative Council is deciding which bills will be heard next year. We want LR 2897 to be one of those bills! Please take a few minutes to contact key members of the Legislative Council and urge them to "vote yes" on LR 2897 when the council meets on December 6th.
This legislation aligns with the hen welfare standards already passed in California, Washington, and Oregon. It requires cage-free housing, minimum space requirements, and key enrichments. Eggs sold in Maine would also be required to come from facilities that meet this welfare standard.
Millions of hens in the United States are packed into warehouses with thousands of other birds – many in wire cages so small that they cannot stand up or stretch their wings. This legislation takes an important step forward in improving those conditions, please urge the Legislative Council to "vote yes" on LR 2987.
THIS ACTION IS FOR MAINE RESIDENTS ONLY.
Related
A series of billboards, in English and Spanish, are launching near slaughterhouses across the country — offering an online tip portal where industrial animal agriculture workers can report any concerns. Joaquin Phoenix partnered with the Animal Legal Defense Fund in offering and promoting ReportAnimalAg.com to allow individuals to remain anonymous.

Animals rescued from backyard slaughter operation near Fort Meyers, Florida are now headed to sanctuaries.

The USDA and its meat corporation clientele are resisting calls to halt or even delay slaughterhouses' adoption of the controversial high-speed, deregulated pig and poultry slaughter inspection systems.