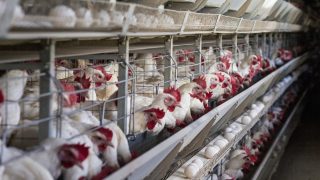 Maine: Help protect the welfare of egg-laying hens
This action is for Maine residents only.
All animals deserve humane treatment, including farmed animals. Right now we need your help to protect consumers and the welfare of egg-laying hens.
On Tuesday, February 11, a key legislative committee is considering an important animal protection bill (LD 2084). LD 2084 would require that eggs sold in Maine come from hens living in cage-free conditions that allow the birds to engage in vital natural behaviors, such as walking, spreading their wings, perching, and laying eggs in a nest.
Please submit a message of support for LD 2084, urging the committee to vote in favor of this bill.
You can submit a letter in support for LD 2084 directly to the state legislative committee considering it.
To Submit Comments:
After following the "Take Action" link, select from the dropdown menu "Agriculture, Conservation, & Forestry,"
Then choose "FEB 11 2020 1:00 PM" as your date
Check the box labelled "LD 2084 – An Act Prohibiting Certain Confinement of Egg-laying Hens and the Sale of Their Eggs."
Then you may write your message in the space provided. Using your own words will help make your letter stand out, but you're welcome to borrow from the sample language below:

I respectfully ask you to vote in favor of LD 2084, An Act Prohibiting Certain Confinement of Egg-laying Hens and the Sale of Their Eggs. This bill demonstrates Maine's ongoing commitment to animal protection and protecting public health. It will create market and regulatory certainty with a reasonable timeframe for compliance.

Several states have passed similar measures and more than 200 corporations are requiring their suppliers to switch to cage-free systems. LD 2084 was crafted from the beginning via a collaborative process by members of Maine's agricultural and animal welfare communities. It's refreshing to see diverse stakeholders come together like this to move the ball forward on an important issue.
Related
The Animal Legal Defense Fund released the second in a series of white papers — COVID-19 and Factory Farming —providing policy recommendations to address industrial animal agriculture's role in our heightened risk for zoonotic diseases outbreaks, like COVID-19, and its potential to be the source of the next global pandemic.

Lawsuit Challenges Law Designed to Disadvantage Plant-Based Products

Animal Legal Defense Fund sues Foster Farms for violating California law by using cruel, water-intensive slaughter method during megadrought