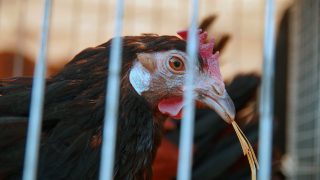 Los Angeles: Ban Live Animal Markets!
This action is for City of Los Angeles residents only.
Animals in live markets suffer immensely before they're killed. Crammed into dirty cages and stacked atop one another, these animals spend their final days in terror. In Los Angeles, chickens, bullfrogs, goats, and turtles are among the species trafficked and warehoused before being sold at these cruel facilities. But we have a chance to stop this abusive industry.
The Los Angeles City Council is considering a measure that would ban the sale of living animals for human consumption—and they need to hear from you. If you live in Los Angeles, please take a few minutes today to submit a comment urging the Council to ban live markets.
Follow these steps to submit a comment:
Below is a sample comment that you can submit to the Council. Please take a few minutes to personalize the comment, especially if you have experience witnessing these markets. Unique submissions carry more weight.
After submitting a comment, check your email (including spam folder) for an email from the City of Los Angeles. You will need to verify your email in order to complete the submission form.
Suggested Comment:
As a Los Angeles resident, I am writing to urge the Council to pass Motion 20-0425, which would prohibit the sale of living animals for human consumption in the City. Terrified and often confined to tiny, filthy cages, animals in live markets suffer terribly before they're killed. Los Angeles has long been a leader in animal protection; let's take the next step and ban these outdated and dangerous facilities.
Live markets aren't only cruel, they're a major threat to public health. Intensively confined in unsanitary conditions and highly stressed, these animals are particularly vulnerable to becoming vectors of disease. Considering the close proximity of the animals to humans, the risk is even greater that a human will come into contact with a pathogen that ultimately results in a zoonotic disease. A wide range of animals—including chickens, quail, rabbits, turtles, and bullfrogs—have been found in markets across the city. The more animals that we exploit, the greater the risk to our community's health.
To protect both animals and our city's safety, please support Motion 20-0425.
Join the Animal Legal Defense Fund's email list to stay up to date on lawsuits, legislation, and regulations affecting animals.
Sign Up Now
Related
The Animal Legal Defense Fund released the second in a series of white papers — COVID-19 and Factory Farming —providing policy recommendations to address industrial animal agriculture's role in our heightened risk for zoonotic diseases outbreaks, like COVID-19, and its potential to be the source of the next global pandemic.

Lawsuit Challenges Law Designed to Disadvantage Plant-Based Products

Animal Legal Defense Fund sues Foster Farms for violating California law by using cruel, water-intensive slaughter method during megadrought