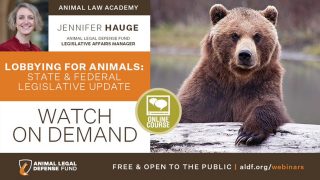 Lobbying for Animals: State & Federal Legislative Update
Presented 6/28/22
Join Animal Legal Defense Fund Legislative Affairs Manager Jennifer Hauge for Lobbying for Animals: State & Federal Legislative Update. This webinar updates viewers on our 2022 work thus far to advance animal protection through lawmaking, as well as explores ways you can directly impact the legislative process to make a difference for animals. A brief Q&A follows. English closed caption subtitles are available.
This webinar was recorded on June 28, 2022. Watch it now!
Resources
Join the Animal Legal Defense Fund's email list to stay up to date on lawsuits, legislation, and regulations affecting animals.
Sign Up Now
Related
Numerous violations documented at the facility of inadequate animal care

Alternative sentencing program in Fulton County, Georgia pairs shelter dogs with criminal defendants to offer both training and a second chance

Lawsuit sheds light on the need to recognize legal rights for animal cruelty victims.