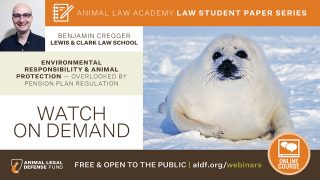 Law Student Paper Series — Environmental Responsibility & Animal Protection — Overlooked by Pension Plan Regulation
Presented 4/8/21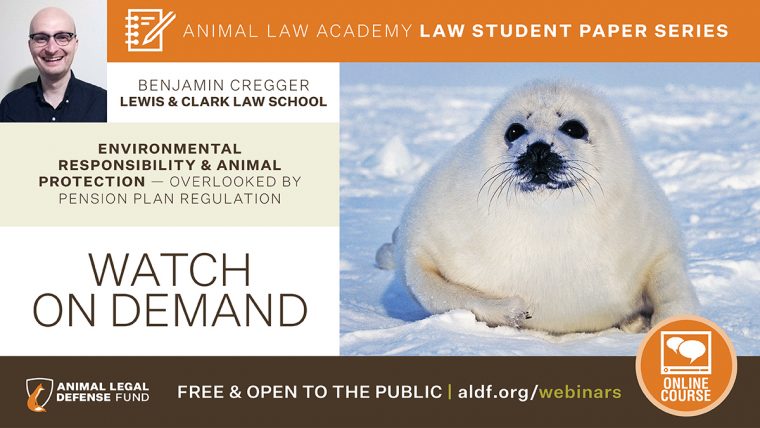 Animal and environmental protection have tremendous long-term repercussions on economic stability, human health, and national security. Yet problematic regulations regarding fiduciary duty make it difficult to factor these considerations in tax-privileged pension planning under ERISA. This has a chilling effect on necessary investments to shift towards a more sustainable and compassionate economy and has concerning consequences for future retirees, which the law is intended to benefit and protect. Join Benjamin Cregger, Lewis & Clark Law School, as they provide a closer look at recent regulatory changes, which are potentially problematic for human and nonhuman animals. A brief Q&A to follow.
This webinar has been pre-recorded. Watch it now!
Resources
Related
The California Court of Appeals affirmed a ruling by a lower court recognizing Society for the Prevention of Animal Cruelty (SPCA) organizations' ability to file lawsuits against entities that violate existing animal protection laws.

Reward for information leading to the arrest and conviction of the person or people responsible for illegally shooting and killing a red wolf in Tyrrell County, North Carolina.

Animal Legal Defense Fund files motion for summary judgement with damning evidence against the university
Join the Animal Legal Defense Fund's email list to stay up to date on lawsuits, legislation, and regulations affecting animals.
Sign Up Now