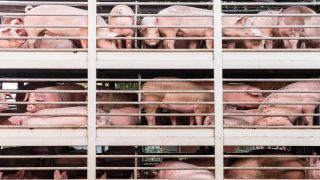 Iowa: Urge Legislators to Oppose Ag-Gag Bill
This action is closed
THIS ACTION IS CLOSED
Iowa lawmakers are at it again, attempting to enact an unconstitutional Ag-Gag law — while still fighting a federal court decision striking down a previous version of this same law, as violating the First Amendment.
In January, the U.S. District Court for the Southern District of Iowa struck down Iowa's Ag-Gag law, holding that the ban on undercover investigations at factory farms and slaughterhouses violates the First Amendment. The Animal Legal Defense Fund led the coalition of animal, environmental, and community advocacy groups in challenging the law's constitutionality.
This decision follows federal courts striking down similar Ag-Gag laws in Utah and Idaho. Idaho was, additionally, ordered to pay $260,000 in attorneys' fees to the plaintiffs who challenged its Ag-Gag law. Similarly, Utah was ordered to pay $349,000 for attorneys' fees and legal costs. Iowa is expected to face similar fees.
Iowa has appealed the district court's decision — though given the ample precedent finding Ag-Gag laws to be unconstitutional, their odds of success seem slim.
Meanwhile, at the behest of industrial agriculture interests, state representatives have introduced new legislation, House File 649 and Senate File 519, which, again, aims to criminalize whistleblowing on factory farms and other agricultural facilities. This new bill is unconstitutional, and were it to become law will likely be struck down by the courts — once again wasting Iowa taxpayers' money.
The ability to investigate, document, and publicize corporate agriculture's abuses is imperative both to the well-being of animals across the nation — and to public health and safety.
Factory farms want to keep their cruel practices hidden from the public, but the public deserves the truth about the billions of animals suffering on industrial farms and whether laws are being broken, jeopardizing food safety, workers' rights, and environmental standards.
For more than a century, the public has relied on undercover investigations to expose illegal and cruel practices on factory farms and slaughterhouses. No federal laws govern the condition in which farmed animals are raised, and laws addressing slaughter and transport are laxly enforced. Undercover investigations are the primary avenue through which the public receives information about animal agriculture operations.
Iowa is the biggest producer of pigs raised for meat and hens raised for eggs in the United States, making it critically important that investigations there are not suppressed.
Help put an end to House File 649 and Senate File 519 by sending a message to your legislators urging them to oppose this harmful, wasteful, unconstitutional legislation.
Related
We are deeply disappointed that despite fierce opposition from the public, Iowa has enacted a new Ag-Gag law just months after a federal court struck down a similar Iowa law that criminalized investigations at factory farms, slaughterhouses, and puppy mill

The sweeping Agriculture Improvement Act of 2018 — an omnibus federal law passed approximately every five years, commonly known as the "farm bill" — included several important provisions, including some victories for animals.

New Iowa legislation would make it a crime for a person to gain access to an agricultural production facility through deception if the person intends to cause an "injury" to the "business interest" of the facility.
Help animals win the legal protections they so desperately need and deserve, and ensure they have an advocate in courtrooms and legislatures across the country.
Take Action Now