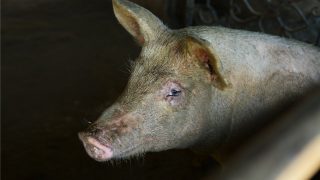 Iowa: Ask Governor Reynolds to Veto the Ag-Gag Bill
This action is for Iowa residents only.
A dangerous Ag-Gag bill is close to becoming law in Iowa. HF 775 is aimed at criminalizing whistleblowing and undercover investigations in agricultural facilities, thus "gagging" activists and others who expose animal abuse in factory farms and slaughterhouses.   
Undercover investigations and whistleblowers have revealed severe animal abuse on factory farms — animals beaten, maimed, and mutilated. The ability to investigate, document, and publicize corporate agriculture's abuses is not only critical to protecting animals but also our own health and safety. Factory farming is already responsible for numerous zoonotic disease outbreaks that have been deadly to humans, including 1997 Bird Flu (H5N1) and the 2009 Swine Flu (H1N1). It's essential that health and safety violations on factory farms are promptly uncovered and addressed, not criminalized.  
The bill has passed the Iowa Legislature and is awaiting Governor Kim Reynolds' review. Please urge Governor Reynolds to veto HF 775 today.  
Join the Animal Legal Defense Fund's email list to stay up to date on lawsuits, legislation, and regulations affecting animals.
Sign Up Now
Related
New Iowa legislation would make it a crime for a person to gain access to an agricultural production facility through deception if the person intends to cause an "injury" to the "business interest" of the facility.

We are deeply disappointed that despite fierce opposition from the public, Iowa has enacted a new Ag-Gag law just months after a federal court struck down a similar Iowa law that criminalized investigations at factory farms, slaughterhouses, and puppy mill

Edie Falco narrates the Animal Legal Defense Fund film demanding transparency in factory farming