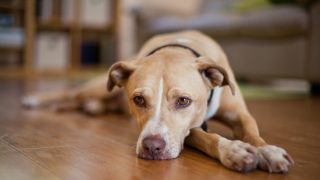 Illinois: Ask Your State Senator to Protect Victims of Animal Cruelty!
This action is for Illinois residents only.
Animal cruelty victims deserve justice in the courtroom. SB 153, sponsored by Senator Linda Holmes and Senator Sara Feigenholtz, would create a Courtroom Animal Advocate Program (CAAP) law in Illinois and allow volunteer attorneys to advocate for cat and dog victims in cruelty cases.
The nation's first Courtroom Animal Advocate Program law, in Connecticut, was inspired by a dog named Desmond. Desmond was starved and severely abused before being strangled to death. Unfortunately, his story isn't unique. Courtroom animal advocates help the legal system reach fair outcomes that benefit animals.
Considering the relative complexity of animal crime cases — involving victims who are unable to advocate for themselves and who are considered living "evidence" who need food, water, socialization, and veterinary care — the needs of the animal victim may not always be considered. SB 153 would change that by providing cat and dog victims with an advocate whose sole duty is to represent the interests of justice regarding the abused or neglected cat or dog.
Please help make Illinois the next state to implement this lifesaving program.
Call your legislator. Phone calls have much more impact than emails. If you're able to make a phone call, please do so. You can use this message: "As your constituent, I'm asking you to please support SB 153 and create a Courtroom Animal Advocate Program in Illinois."
After calling, please send a follow-up email using the form below. Personalizing your message will help it stand out.
Related
Animal Legal Defense Fund challenges the renewed license for the owner of Wildlife on Wheels after evidence has revealed ongoing violations for more than a decade

A Courtroom Animal Advocate Program (CAAP) bill, S.2868/A.4533, which would allow law students and volunteer lawyers to advocate for animal victims in cruelty criminal cases, unanimously passed the New Jersey Senate. The bill is sponsored by Senator Nicholas Scutari and Assemblyman Raj Mukherji and endorsed by the Animal Legal Defense Fund.

Breeding operation, Adorable Stars, sells parasite-ridden kittens suffering from severe and fatal ailments