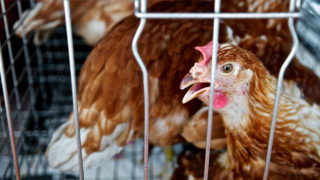 Hawaii: Urge Representative Mark Hashem to Protect Egg-Laying Hens
This action is for Hawaii residents only.
Egg-laying hens typically spend their entire lives confined to cages so small that they cannot turn around or extend their wings. An Act Relating to Farm Animals (HB 538) would ban the intensive confinement of egg-laying hens in Hawaii as well as ban the sale of eggs from hens kept in such cruel conditions — helping protect millions of birds.
No federal laws govern how farmed animals are raised, leaving them vulnerable to extreme cruelty. HB 538 mandates hens be provided at least one square foot of space per bird as well as vital enrichments such as scratch areas, perches, nest boxes, and dust bathing areas. It would also prohibit businesses from selling eggs from hens kept without these minimum protections beginning in 2026.
But this bill needs your help to become law. Please use the form below to send an email urging House Agriculture Chair, Representative Mark Hashem, to set HB 538 for a hearing in the House Agriculture Committee.
We are grateful to Senator Mike Gabbard for introducing this important legislation and Senators Chris Lee, Karl Rhoads, Gil Riviere, Maile Shimabukuro, and Stanley Chang for their support.
Join the Animal Legal Defense Fund's email list to stay up to date on lawsuits, legislation, and regulations affecting animals.
Sign Up Now
Related
The Animal Legal Defense Fund released the second in a series of white papers — COVID-19 and Factory Farming —providing policy recommendations to address industrial animal agriculture's role in our heightened risk for zoonotic diseases outbreaks, like COVID-19, and its potential to be the source of the next global pandemic.

Lawsuit Challenges Law Designed to Disadvantage Plant-Based Products

Animal Legal Defense Fund sues Foster Farms for violating California law by using cruel, water-intensive slaughter method during megadrought