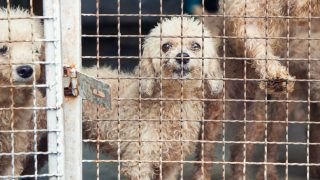 Florida: Urge Your Representative to Oppose the Misleading 'Pet Protection Act'
This action is for Florida residents only.
A dangerous Florida bill, misleadingly named the "Pet Protection Act" (S.B. 994 / H.B. 849), would nullify important reforms for animals.
Far from "protecting" companion animals, this bill would preempt new local retail sales bans for cats and dogs and stop local governments from enacting additional safeguards against puppy and kitten mills.
Commercial breeding mills prioritize profits over animals' health and well-being. Pet stores are a common sales venue for puppies and kittens from these operations, and local efforts to ban such sales are an important tool in the fight to stop mill cruelty.
Please use the form below to send a message to your representative, urging them to oppose this harmful bill. Remember, personalizing your message will help it stand out.
Puppy mill operators maximize their profits by producing large numbers of puppies as quickly as possible. As a result, unsanitary conditions, disease, and neglect are rampant. Sign our pledge to boycott puppy mills. Together we can end cruel puppy mills.
Sign Petition
Related
Class-action lawsuit alleges thousands in California purchased dogs under the false belief they were rescue animals

The Los Angeles Superior Court has granted a preliminary injunction that halts the Kenneys, unscrupulous internet puppy sellers, from advertising and selling puppies until the lawsuit is decided on the merits.

Animal Legal Defense Fund challenges the renewed license for the owner of Wildlife on Wheels after evidence has revealed ongoing violations for more than a decade