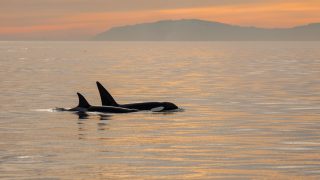 Florida: Urge Your Legislators to Sponsor the Florida Orca Protection Act
Update: This action is closed.
For an orca who can swim up to 140 miles a day and dive hundreds of feet deep, life in captivity is extreme confinement. If you've ever felt a sense of the great vastness of the ocean, it is truly chilling to consider the life of a wild orca versus that of one in captivity. An orca in a tank is often compared to a human living in a bathtub. The Animal Legal Defense Fund is leading a coalition of animal protection, environmental, and marine conservation groups to introduce the Florida Orca Protection Act, which would grandfather in existing orcas but outlaw holding any additional orcas in captivity in Florida. The act would also prohibit breeding captive orcas or transporting them into or out of state, unless to a seaside sanctuary or required by federal law. It's a commonsense law that just codifies SeaWorld's previous commitment to phase out breeding orcas immediately and orca performances by 2019.
Act now—Use this form to urge the members of the Florida Senate Preservation and Conservation Committee to sponsor the Florida Orca Protection Act.
Related
This year's Florida legislative session promises to be one of the busiest yet for animals. The Animal Legal Defense Fund is in the halls of the legislature every day – advocating for animals who would otherwise not have a voice.

The Animal Legal Defense Fund grieves the death of Kayla, a 30-year-old orca whose death SeaWorld announced on Monday. And we renew our call for Florida and other states with captive orcas to pass and enact stronger orca protection laws.

Two years ago, SeaWorld promised that this current generation of captive orcas would be the last.