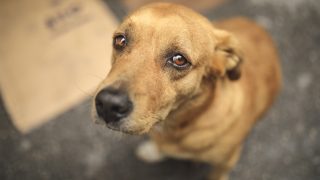 Florida: Urge Gov. DeSantis to Sign Animal-Friendly Bills into Law!
This action is for Florida residents only.
Florida animal advocates have the opportunity to help three important bills become law.
With the legislative session now complete, these bills are awaiting Gov. Ron DeSantis' signature. Please take action for animals today by urging Gov. DeSantis to sign these bills into law!
SB 96 would require cross-reporting of suspected child and animal abuse between child protective investigators to report suspected animal abuse. This would help protect some of our most vulnerable populations. We're grateful to Sen. Lauren Book and Rep. Thad Altman for sponsoring this bill.
SB 776 would allow for expanded penalties for those convicted of illegally selling, buying, collecting, or possessing wild animals by adding these crimes to the list of offenses that can be prosecuted under Florida's Racketeer Influence and Corrupt Organization (RICO) Act. We're grateful to Sen. George Gainer, Rep. Jenna Persons-Mulicka, and Rep. Toby Overdorff for sponsoring this bill.
SB 388 would allow dogs injured in the line of police duty to receive immediate medical attention. We're grateful to Sen. Tom Wright and Rep. Sam Killebrew for sponsoring this bill.
Additionally, SB 8-A, which removed a requirement that facilities offering certain forms of gambling, like poker tables or slot machines, also offer quarter horse racing and harness horse racing, was signed into law last week. We're grateful to Sen. Travis Hutson for sponsoring this bill. We're also grateful to all of our supporters who took action and encouraged the passage of this bill. It is a true victory for horses!
Thank you for helping to protect Florida animals by calling and emailing the governor's office using the form below. Phone calls have much more impact than emails. If you're able to make a phone call, please do so. After calling, please send a follow-up email. Personalizing your message will help it stand out.
Join the Animal Legal Defense Fund's email list to stay up to date on lawsuits, legislation, and regulations affecting animals.
Sign Up Now
Related
Animal Legal Defense Fund asserts USDA allows Perdue Farms and others to misleadingly represent factory farmed animals in pastoral imagery

In a letter to the USDA, the Animal Legal Defense Fund and others explain the zoo has repeatedly violated standards of the Animal Welfare Act

Animal Legal Defense Fund offers reward for information leading to the arrest and conviction of the person or people responsible for binding an alligator in Seminole County, Florida