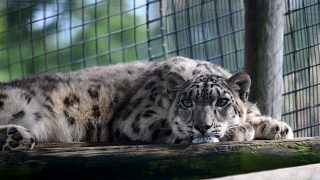 Engage Your Lawmakers on Animal Protection Issues During the August Recess
Meet with your lawmakers and ask them to support animal-friendly legislation.
Every summer, members of Congress return to their home districts during the August recess, and this is a great time to engage with your lawmakers and urge them to support animal-friendly legislation.
Meeting with your lawmaker or a member of their staff can have an enormous impact for animals. As their constituent, you can ask them to sponsor or vote in favor of animal protection legislation, such as bills endorsed by the Animal Legal Defense Fund. Meetings are short, simple, and highly effective!
Find a step-by-step guide to meeting with your elected leaders here.
We recommend that you discuss these two federal animal protection bills with your lawmaker or their staff member during your meeting:
The Big Cat Public Safety Act, which would prohibit the private possession of big cats such as lions, tigers, and leopards throughout the U.S., and ban the harmful "cub petting" industry, which endangers both cubs and members of the public while also fueling the big cat "pet" trade. Learn more.
The Farm System Reform Act, which would overhaul our broken food system by placing a moratorium on the largest factory farms — immediately stopping the creation or expansion of large factory farms and requiring the cessation of such operations by 2040 — as well as holding large factory farms accountable for their environmental impacts. Learn more.
Need more information about meeting with your federal legislators? Contact Animal Legal Defense Fund Senior Legislative Affairs Manager Alicia Prygoski for any questions not answered in our step-by-step guide. Learn more about the Animal Legal Defense Fund's work on federal legislation here.
Join the Animal Legal Defense Fund's email list to stay up to date on lawsuits, legislation, and regulations affecting animals.
Sign Up Now
Related
Edie Falco narrates the Animal Legal Defense Fund film demanding transparency in factory farming

D.C. Court of Appeals rules Animal Legal Defense Fund can pursue its claims

Animal Legal Defense Fund-led coalition wins major victory for animal protection, food and worker safety, and the First Amendment