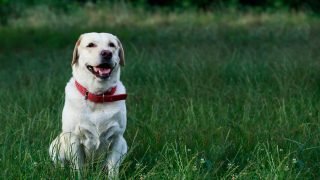 End the Cycle of Abuse – Speak out in Support of the Animal Welfare and Violence Intervention Act
This action is closed.
Animal abusers are five times more likely to harm humans. The Animal Legal Defense Fund is working with California State Senator Scott Wilk to address the link between animal cruelty and violence against humans by passing SB 1024, the Animal Welfare and Violence Intervention Act of 2018.
Animal abuse is among the most misunderstood and undercharged crimes in our society. Currently, there are limited sentencing options, and judges have little power to ensure animal abusers receive appropriate treatment or education. In California, fines, limited jail time, probation, and forced animal surrender are about the only options. None of these options adequately address the underlying causes of animal cruelty.
We need Californians' help to ensure this bill becomes law. The bill would require all convicted animal abusers to complete an approved animal offender education course and require offenders convicted under more serious animal abuse statues – like those involving malicious violence – to undergo a mandatory mental health evaluation and possibly ongoing counseling for up to one year.
Please take a few minutes to call the legislators in the Senate Public Safety Committee today and politely ask them to support SB 1024. Find their phone numbers at the bottom of the page. If you'd like, you can use the sample script below:
"Hi, I live in _____ (name of Senator's) district (if you don't live in their district, simply say 'I am a California resident'). I am calling to ask him/her to support SB 1024, the Animal Welfare and Violence Intervention Act of 2018. Abusers of animals are five times more likely to harm humans. Legislation addressing the link between animal abuse and violence against humans is essential to protecting Californians."
Thank you for protecting California's animals!
Contact Information:
Senator Nancy Skinner (East Bay) – (916) 651-4009
Senator Scott Wiener (San Francisco) – (916) 651-4011
Senator Steven Bradford (Los Angeles) – (916) 651-4035
Senator Hannah-Beth Jackson (Santa Barbara/Ventura) – (916) 651-4019
Senator Holly Mitchell (Culver City) – (916) 651-4030
Senator Jeff Stone (Riverside) – (916) 651-4028
Senator Joel Anderson (San Diego) – (916) 651-4038
Related
In May 2018, the Animal Legal Defense Fund filed a unique lawsuit in Oregon on behalf of a severely maltreated horse named Justice. Justice suffered starvation, frostbite, and other grave injuries due to his owner's failure to provide him with basic care.

On Saturday, September 8th, the Animal Legal Defense Fund hosted its Justice for Animals Gala 2018 in Los Angeles, CA.

During this interactive webinar, Joyce Tischler will detail the lives of farmed animals and the laws (or lack thereof) that protect them.