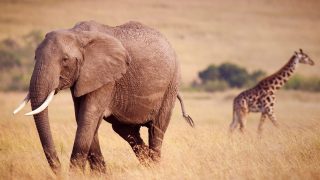 Connecticut: Protect Elephants and Other Wild Animals from Trophy Hunting and Trafficking
This action is for Connecticut residents only.
Protect elephants, rhinos, and other iconic wildlife species by helping end Connecticut's role in the global poaching crisis. Take a stand against wildlife trafficking and trophy hunting and urge your Connecticut state legislators to support An Act Prohibiting The Import, Sale And Possession Of African Elephants, Lions, Leopards, Black Rhinoceros, White Rhinoceros And Giraffes (SB 925).
Trophy hunters often pay tens of thousands of dollars to kill wild animals and bring parts of their bodies back as "trophies." SB 925 removes the incentive for trophy hunters to kill certain imperiled species by largely banning the import, possession, sale, or transport of body parts of African elephants, lions, leopards, black rhinos, white rhinos, and giraffes in the state.
Wildlife trafficking abroad does not exist in a vacuum. It concerns every link in the trade chain, from countries where the animals live, to transit points, to marketplaces, including Connecticut. Especially as markets in other states are closing, Connecticut remains a contributor to the wildlife trafficking crisis. SB-925 aids in the global fight to stem wildlife poaching and trafficking by helping to dry up demand for the animal parts and products.
Please contact your state legislators and urge them to help protect African elephants, lions, leopards, black rhinos, white rhinos, and giraffes by supporting SB 925.
We thank Senate Majority Leader Bob Duff and the Environment Committee for introducing SB 925 and Representatives Bobby G. Gibson, David Michel, Anne M. Hughes, Mitch Bolinsky, Nicole Klarides-Ditria, David K. Labriola, Lucy Dathan, Dorinda Borer, Michael A. Winkler, John "Jack" F. Hennessy as well as Senator Derek Slap for being early co-sponsors of this bill.
You can send an email and/or call your legislators using the toggle buttons noted with the icons below. Phone calls have much more impact than emails. If you're able to make a phone call, please do so.
Join the Animal Legal Defense Fund's email list to stay up to date on lawsuits, legislation, and regulations affecting animals.
Sign Up Now
Related
Animal Legal Defense Fund letter asks Puerto Rico governor to investigate illegal treatment of endangered species and other animals at Dr. Juan A. Rivero National Zoological Park

The Animal Legal Defense Fund is deeply saddened by the death of elephants Beulah and Karen and is committed to supporting legislation pending in Massachusetts to prohibit the use of elephants and certain other wild animals used in circuses.

Dr. Juan A. Rivero National Zoological Park has been illegally operating without federal license for more than a year.