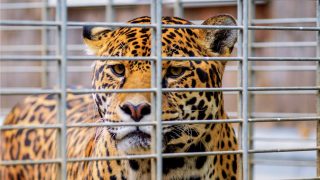 Colorado: Protect Wild Animals Exploited in Circuses
This action is for Colorado residents only.
The big top is no place for a wild animal. Animals in circuses endure severe neglect and are subjected to abusive training and prolonged confinement in cages. It's not entertainment — it's cruelty. The Colorado legislature is considering banning the use of certain wild animals, including big cats, bears, nonhuman primates, and elephants, from being used in entertainment performances in circuses.
Wild animals in circuses spend most of their days in cramped, barren cages, deprived of the ability to engage in their natural behaviors. Forced to perform frightening and sometimes painful tricks, they are typically denied anything that might satisfy their complex physical, behavioral, and emotional needs. Help protect animals exploited in circuses by urging your legislators to co-sponsor the Traveling Exotic Animal Safety Protection Act (SB 135), introduced by Senator Joann Ginal and Senator Rachel Zenzinger as well as Representative Meg Froelich and Representative Monica Duran.
Please ask your legislators to support the Traveling Exotic Animal Safety Protection Act and help protect animals exploited in circuses. The bill has passed the Senate Committee on Agriculture & Natural Resources and the House Agriculture, Livestock, & Water Committee and is now before the full Senate and House.
Call your legislators. Phone calls have much more impact than emails. If you're able to make a phone call, please do so. You can use this message: "As your constituent, I'm asking you to please support the Traveling Exotic Animal Safety Protection Act, introduced by Senator Ginal, Senator Zenzinger, Representative Froelich, and Representative Duran to prohibit the use of certain wild animals in circuses."
After calling, please send a follow-up email using the form below. Personalizing your message will help it stand out.
Related
The court's decision ensures Special Memories Zoo is permanently closed following Animal Legal Defense Fund lawsuit

For decades, Fischbacher, with his business partner Roy Horn, ran an infamous Las Vegas show that forced white tigers and lions to perform tricks in front of large audiences.

Representatives Mike Quigley (D-IL) and Brian Fitzpatrick (R-PA) reintroduced the Big Cat Public Safety Act in the U.S. House of Representatives. The House of Representatives voted 272 to 114 to pass the same bill in December.