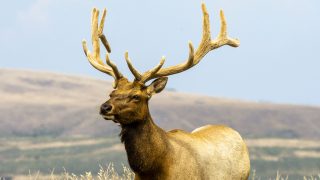 Urge the National Park Service to Ensure Tule Elk Have Drinking Water
This action is for United States residents only.
A herd of tule elk living in the northern portion of the Point Reyes National Seashore are in serious danger. Visitors to the Seashore have reported that the National Park Service (NPS) has allowed an old stock pond, an important water source for these animals, to dry up. Please send a message politely asking the Director and Superintendent of the Seashore to fill the pond before any more elk die of thirst.
On the Seashore, the elk are restricted to certain areas to accommodate the demands of cattle ranchers and unable to travel to an area with a better water supply — they are reliant on NPS to ensure they have an adequate water source.
During the 2012-2015 drought, 250 elk died due to lack of water in their reserve. In the wake of their deaths, NPS promised to provide supplemental water when the pond dries up. But currently, the pond appears dry with no intervention from NPS. These ponds are critical to the animals' survival because there are no perennial streams in the reserve.
Use the form below to send a message to the Director and Superintendent of the Point Reyes National Seashore.
Join the Animal Legal Defense Fund's email list to stay up to date on lawsuits, legislation, and regulations affecting animals.
Sign Up Now
Recent News
The House of Representatives adopted an amendment to fund services for companion animals impacted by COVID-19 in the FY2021 budget! Now, you can help ensure that amendment is adopted in the Senate as well as a second animal-friendly budget amendment.

The Animal Legal Defense Fund filed a lawsuit against the United States Department of Agriculture (USDA) under the Freedom of Information Act (FOIA) over the agency's critical redactions in a contract between the USDA's Wildlife Services program and a Colorado slaughterhouse, outlining plans for slaughtering geese rounded up in parks across Denver.

For years, concerned residents have voiced their outrage over the killing of Canada geese rounded up in parks across Denver. As a taxpayer, you have the right to know how Wildlife Services uses your dollars and whether its methods are humane and science-based. If you agree that Wildlife Services should operate with transparency, sign our petition.