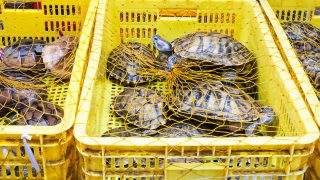 California: Urge the Assembly Water, Parks, and Wildlife Committee to Crack Down on Live Animal Markets and Wildlife Trafficking
This action is CLOSED.
UPDATE 8/4/20: This bill was passed by the Assembly Committee on Water, Parks, and Wildlife.
SB 1175 would crack down on live animal markets and the trophy hunting of endangered species by making two critical changes to California law. Championed by Senator Henry Stern, SB 1175 bans the importation and sale of live wild animals that pose a zoonotic disease risk as well as the possession of certain endangered species, like elephants and lions, who are frequently hunted for "trophies" in other countries. Help ensure this bill becomes law by sending a message of support to legislators sitting on the Assembly Committee on Water, Parks, and Wildlife.
Animals in live markets are typically confined to tiny, filthy cages — terrified as they await slaughter. But live animal markets are not only deeply cruel, they're also potential breeding grounds for zoonotic disease, with serious consequences for human health. SB 1175 tackles wildlife exploitation from two angles by restricting the importation and sale of wild animals that could potentially fuel the next pandemic while simultaneously limiting wildlife trafficking in California, protecting iconic species like the black rhinoceros and African elephant.
Join the Animal Legal Defense Fund's email list to stay up to date on lawsuits, legislation, and regulations affecting animals.
Sign Up Now
Related
The Animal Legal Defense Fund, the nation's preeminent legal advocacy organization for animals, is offering a $5,000 reward for information leading to the arrest and conviction of the person or people responsible for the shooting of a turtle and rabbit with a crossbow on the week of June 1, 2020.

Animal Legal Defense Fund letter asks Puerto Rico governor to investigate illegal treatment of endangered species and other animals at Dr. Juan A. Rivero National Zoological Park

The Animal Legal Defense Fund is deeply saddened by the death of elephants Beulah and Karen and is committed to supporting legislation pending in Massachusetts to prohibit the use of elephants and certain other wild animals used in circuses.