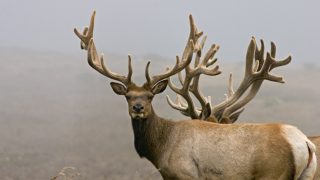 Protect Native Elk Living in Point Reyes National Seashore
THIS ACTION IS CLOSED.
The National Park Service (NPS) recently unveiled a draft plan to shoot and kill some of the tule elk living in Point Reyes National Seashore. Why? To benefit ranchers. Ranchers claim that the elk interfere with their operations and consume too many resources.
In short, the NPS' preferred plan prioritizes the economic interests of the commercial cattle industry over the lives of wild animals and the integrity of natural habitats. In addition to allowing the NPS to kill elk, it would extend ranch leases to up to 20 years (currently five year terms are offered), expand leases into an additional 7,600 acres of the park, and allow ranchers to diversify their businesses beyond cows to include other farmed animals.
Many of the park's visitors come to see these beautiful animals. Yet the existing tule elk are already outnumbered nearly ten to one by cows. We need your voice – submit a comment telling the National Park Service that commercial agriculture shouldn't be valued over wildlife by September 23rd.
You can use the sample text below to get started, but unique comments carry more weight so personalize your comment before sending.
Sample Comment:
I care about protecting California's wildlife. I oppose the National Park Service's plan to kill native tule elk and expand commercial agriculture in Point Reyes National Seashore and Golden Gate National Recreation Area. I urge the National Park Service to instead restore the lands for wild animal habitat.
We should prioritize the preservation of our public lands and wildlife, not the economic interests of private ranchers. These commercial cattle ranches have serious negative environmental impacts on the park – polluting waterways, causing soil erosion, and harming the many endangered and threatened animals who live on Point Reyes. National parks exist to protect our natural resources and native wildlife. This park should be managed accordingly. 
Thank you for speaking up for the elk who call Point Reyes home!
Join the Animal Legal Defense Fund's email list to stay up to date on lawsuits, legislation, and regulations affecting animals.
Sign Up Now
Related
Animal Legal Defense Fund and American Wild Horse Campaign continue work to ensure wild horses' safety

Three baboons and two macaques removed from Cricket Hollow Zoo are transferred to primate sanctuary, following Animal Legal Defense Fund lawsuit

Advocates continue to fight law that penalizes whistleblowing on factory farms, other businesses in violation of the First Amendment