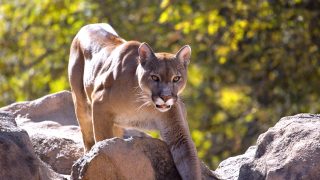 California: Help Save Local Mountain Lions
This action is for California residents only.
Update: Great new for California's mountain lions! Thanks to your advocacy, on April 16, 2020, the California Fish & Game Commission unanimously voted to grant Southern California and Central Coast mountain lions "candidate status" under the California Endangered Species Act (CESA). Over the next year, a final decision will be made on whether to list these animals as endangered but, critically, they will be given full protections under CESA during that time.
---
Mountain lions in Southern California and along the Central Coast are on an extinction trajectory. If nothing is done, some populations could disappear within 50 years or less.
Over the past century, habitat for these big cats has shrunk dramatically and become increasingly fragmented. As a result, mountain lions in the Santa Ana and Santa Monica mountains are now suffering from extremely low genetic diversity and inbreeding.
They're also bombarded by a wide range of other threats, including car strikes, rat poisons, poaching, and wildfire. In a recent study, over 90% of tested mountain lions had highly toxic "second generation" rodenticides in their blood. Such high levels of exposure could lead to internal bleeding, decreased fitness, and even death.
On April 16, the California Fish and Game Commission will vote on whether to adopt the California Department of Fish & Wildlife's recommendation and grant Southern California and Central Coast mountain lions "candidate status" under the state Endangered Species Act. A favorable vote would then trigger a year-long review of whether Southern California and Central Coast mountain lions should be formally protected under the Act. The Act's full protections would apply during the year-long candidacy period.
State endangered species listing would help address the many threats these lions face. Among other things, the State would need to re-evaluate whether to allow the use of super-toxic rat poisons in mountain lion habitats. This is an issue we've been working hard on through our sponsorship of AB 1788 – a bill to ban second-generation anticoagulant rodenticides, which would benefit many California wildlife species including mountain lions.
Related
Reforms emphasize coexistence with coyotes and other wildlife

Animal Legal Defense Fund moves for contempt order against Cricket Hollow Zoo and owners who removed animals before rescue in violation of court order