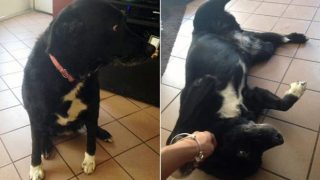 Bella's Bill – A Major Step Forward for New York's Animals
Bella, an eleven-year-old Shepherd mix, was killed on December 23, 2016 by her caregiver. The defendant tightened a zip tie around her neck, stuffed her in a garbage bag, and beat her with a metal shovel. Due to the extent of her injuries, Bella was euthanized. Despite the seriousness of the crime, Bella's abuser received only four months in county jail – a sentence that falls far short of justice for Bella.
Sign the open letter to Governor Cuomo in support of Bella's Bill.
New Yorkers were rightfully outraged – the punishment should fit the crime. That's why the Animal Legal Defense Fund is working hard to pass "Bella's Bill." Bella's Bill would overhaul New York's outdated animal cruelty laws. It's about time – this year, New York ranked in the worst ten states in our annual U.S. Animal Protection Laws Rankings Report.
This important bill would, among other changes, transfer animal cruelty laws out of the Agriculture & Markets Law and into the Penal Code. This sounds like a small detail, but it's not. This move will ensure crimes against animals are treated as "real" crimes by law enforcement officials. The bill also enhances penalties for people convicted of intentional animal abuse.
The Animal Legal Defense Fund is working closely with New York legislators to make Bella's Bill law.
Sign your name to the open letter to Governor Andrew Cuomo urging him to support Bella's Bill and make strengthening New York's outdated animal cruelty laws a priority.
Related
Today the House of Representatives voted 272 to 114 to pass the Big Cat Public Safety Act. Endorsed by the Animal Legal Defense Fund, the bill prohibits the private ownership of big cats and makes it illegal for exhibitors to allow direct contact with cubs.

The Animal Legal Defense Fund filed a lawsuit against the United States Department of Agriculture (USDA) under the Freedom of Information Act (FOIA) over the agency's critical redactions in a contract between the USDA's Wildlife Services program and a Colorado slaughterhouse, outlining plans for slaughtering geese rounded up in parks across Denver.

The Animal Legal Defense Fund released the second in a series of white papers — COVID-19 and Factory Farming —providing policy recommendations to address industrial animal agriculture's role in our heightened risk for zoonotic diseases outbreaks, like COVID-19, and its potential to be the source of the next global pandemic.