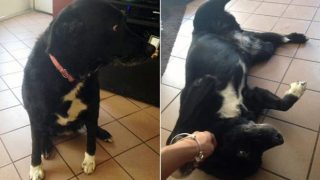 Bella's Bill – A Major Step Forward for New York's Animals
Bella, an eleven-year-old Shepherd mix, was killed on December 23, 2016 by her caregiver. The defendant tightened a zip tie around her neck, stuffed her in a garbage bag, and beat her with a metal shovel. Due to the extent of her injuries, Bella was euthanized. Despite the seriousness of the crime, Bella's abuser received only four months in county jail – a sentence that falls far short of justice for Bella.
Sign the open letter to Governor Cuomo in support of Bella's Bill.
New Yorkers were rightfully outraged – the punishment should fit the crime. That's why the Animal Legal Defense Fund is working hard to pass "Bella's Bill." Bella's Bill would overhaul New York's outdated animal cruelty laws. It's about time – this year, New York ranked in the worst ten states in our annual U.S. Animal Protection Laws Rankings Report.
This important bill would, among other changes, transfer animal cruelty laws out of the Agriculture & Markets Law and into the Penal Code. This sounds like a small detail, but it's not. This move will ensure crimes against animals are treated as "real" crimes by law enforcement officials. The bill also enhances penalties for people convicted of intentional animal abuse.
The Animal Legal Defense Fund is working closely with New York legislators to make Bella's Bill law.
Sign your name to the open letter to Governor Andrew Cuomo urging him to support Bella's Bill and make strengthening New York's outdated animal cruelty laws a priority.
Related
Earlier this summer, the driver of a pig transport truck struck and killed longtime animal advocate Regan Russell. The circumstances regarding her death are not fully known to the public, but top to bottom, the animal agriculture industry is rarely held accountable.

Court dismisses International Fur Trade Federation's complaint in victory for animals

After multiple lawsuits filed and fought by the Animal Legal Defense Fund, the Tiger Truck Stop has finally stopped exhibiting animals and tore down its cages. The Tiger Truck Stop, the infamous gas station in Gross Tete, Louisiana, held Tony — an endangered Siberian-Bengal tiger — from the age of 6-months until his death at the age of 17 in 2017.