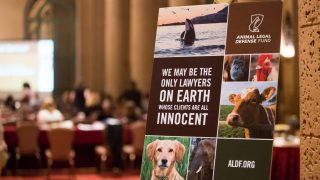 Speakers for Virtual Animal Law Symposium 2021
Speaker Bios
Virtual Animal Law Symposium 2021
Friday, April 23 – Saturday, April 24, 2021
Dr. Aysha Akhtar
President and CEO
Center for Contemporary Sciences
Aysha Akhtar, M.D., M.P.H., is a double-board certified neurologist and preventive medicine specialist, with a background in public health. She is the President and CEO of the Center for Contemporary Sciences, which is pioneering the transition to replace the use of animals in experimentation with effective human-based technologies.
Dr. Akhtar is the author of the recent book, Our Symphony With Animals. On Health, Empathy and Our Shared Destinies. Combining medicine, social sciences, and stories, her book explores how deeply the well-being of humans and animals are entwined. She is also the author of Animals and Public Health, which argues for the need for medical/health institutions to include animals as part of the "public" in public health.
Dr. Akhtar is a Fellow of the Oxford Centre for Animal Ethics. Previously she served as Deputy Director of the U.S. Army Traumatic Brain Injury Program and Commander in the US Public Health Service Commissioned Corps. Dr. Akhtar has appeared in television shows and interviewed by national media.
You can follow her on Facebook @DrAyshaAkhtar and visit her website https://ayshaakhtar.com/
Christine Ball-Blakely
Staff Attorney
Animal Legal Defense Fund
As a staff attorney at the Animal Legal Defense Fund, Christine works to end the exploitation and systemic abuse of farmed animals. She employs environmental laws to hold the factory farming industry—and the government agencies responsible for regulating it—accountable. She believes that, together, we can build a just legal system that prioritizes the protection of animals, the environment, and marginalized communities over private profit.
Before joining the Animal Legal Defense Fund, Christine was a litigator for the federal government. She graduated with high honors from the University of Tennessee College of Law, where she served as president of the Student Animal Legal Defense Fund, acquisitions editor for the Tennessee Law Review, and student attorney in the Appellate Litigation Clinic. Christine received the Tennessee Law Review Editor's Award and the Legal Clinic Distinguished Student Award, and she is the author of CAFOs: Plaguing North Carolina Communities of Color. Before law school, Christine served in AmeriCorps and worked in the nonprofit sector.
Christine shares her home with her family members, Michael (a human), Dunkel (a canine), and Tolstoy (a feline). Dunkel and Tolstoy are courageous animals who inspire Christine every day to fight for a world that respects animals and treats them as the unique, rights-bearing individuals they are.
Catherine Doyle, M.S.
Director of Science, Research, and Advocacy
Performing Animal Welfare Society
Catherine Doyle is the Director of Science, Research and Advocacy for the Performing Animal Welfare Society (PAWS). PAWS operates three captive wildlife sanctuaries in California, including ARK 2000, a 2,300-acre natural habitat refuge for elephants, bears, and big cats rescued or retired from zoos, circuses, and private owners. Catherine has worked on behalf of elephants and other captive wildlife for nearly 20 years. She directs PAWS' public policy efforts and has been successful in passing protective legislation such as the ban on elephant bullhooks in the state of California. She also leads research efforts at PAWS, including a long-term study of the sanctuary's African elephants. Catherine has a Master of Science degree in Anthrozoology (Canisius College). She writes about elephants and the ethics of captivity (chapters in The Ethics of Captivity, Oxford University Press, 2014, and The Handbook of Practical Animal Ethics, Palgrave-Macmillan, 2018) and captive wildlife sanctuaries (Animal Studies Journal, 2017). Catherine serves on the Steering Committee for the Big Cat Sanctuary Alliance and the advisory board for The Whale Sanctuary Project. She organizes PAWS' biennial International Captive Wildlife Conference.
Galina Hale
Professor of Economics
University of California at Santa Cruz 
Galina Hale (Borisova) is a Professor of Economics at UC Santa Cruz and a Research Advisor (currently on leave) at the Federal Reserve Bank of San Francisco. Previously she was an assistant professor in the economics department of Yale University. She also taught a number of courses as a visiting faculty at Stanford and UC Berkeley.
Galina began to study economics in Russia, first in Moscow State University economics department and then at the New Economic School's master's program.  When in Russia, she briefly worked as a consultant for the Russian Ministry of Finance and as a chief editor for a weekly newsletter of the Russian Central Bank's news agency. She received her PhD in economics from UC Berkeley, under the supervision of Barry Eichengreen.
Galina's research interests lie in three main areas: understanding patterns of international capital flows and international financial crises, international banking, and stability of financial networks.  Galina has published her work in such journals as the Economic Journal, Journal of Econometrics, Journal of European Economic Association, Journal of International Economics, Journal of Financial Economics, Journal of Banking and Finance, IMF Economic Review, Review of Financial Studies, among others.  She co-wrote with Cheryl Long a monograph Foreign Direct Investment in China: Winners and Losers. In addition, Galina has been recently working on identifying ways for the financial system to mitigate climate risks, and on ways economists can inform policymakers on how to make food system more sustainable.
Galina currently serves as a co-editor of the Russian Journal of Central Banking, associate editor of the Journal of International Economics, and a member of editorial board of the IMF Economic Review and Pacific Economic Review.  She has co-edited special issues of the Journal of International Economics and of the IMF Economic Review.  Galina is a director of the CEBRA's IFM program and a co-director of the UCSC Center for Analytical Finance (CAFIN).  She servers on multiple board and committees in animal welfare and animal agriculture space.
In her free time, Galina trains for and participates in long distance running and triathlon races and travels to beautiful places.
Stephanie Harris
Senior Legislative Affairs Manager
Animal Legal Defense Fund
After nearly a decade in the field of animal protection, Stephanie Harris has extensive experience in lobbying, strategy development, coalition building, and volunteer management. As Senior Legislative Affairs Manager, Stephanie works to develop and advance Animal Legal Defense Fund's legislative campaigns.
Previously, Stephanie was the Senior State Director for Massachusetts and Rhode Island at the Humane Society of the United States, where she was instrumental in helping pass state and municipal animal protection laws. She served as the Campaign Director for the 2016 Massachusetts farmed animal protection ballot campaign to phase out cruel confinement of farmed animals as well as the sale of products (eggs, pork, and veal) coming from such confinement. Voters approved the initiative with an overwhelming 78% support and created the strongest farmed animal protection law in the world at the time.
Earlier in her career, Stephanie worked on wildlife protection ballot campaigns in Michigan and Maine, and on various farmed animal protection state legislative campaigns. She also interned at a wildlife rescue and rehabilitation facility after graduating from Franklin & Marshall College, where she studied political science and studio art.
Stephanie shares her home office in Cambridge, MA, with a rescue cat named Hadley. When not working, she can often be found on backpacking or paddling trips, or binge-reading sci-fi novels.
Kim Kelly
Legislative Affairs Program Director
Animal Legal Defense Fund
Kim is the Animal Legal Defense Fund's Legislative Affairs Program Director. In this position, Kim works to develop and advance the Animal Legal Defense Fund's key legislative initiatives to improve and create stronger animal protection laws.  She received her Bachelors in English and Political Science from U.C. Berkeley where she was an Academic All-American and NCAA Division I Champion in Women's crew. Kim was a merit scholar at Charleston School of Law where she received her JD.
Before coming to the Animal Legal Defense Fund, Kim was instrumental in helping pass several laws to protect animals in South Carolina. She was appointed to a statehouse committee tasked with reviewing statewide animal welfare laws where she worked with legislators, state agencies, and other stakeholders to examine existing policy and make recommendations to the General Assembly on animal welfare concerns. As inaugural chair of the South Carolina Bar's Animal Law Committee, she successfully lobbied the South Carolina Bar Association to oppose specific provisions of a contentious "vet care" bill that likely would have violated federal antitrust laws.
Kim chooses to work for the Animal Legal Defense Fund because she sees it is a dynamic organization that plays a critical role in advancing animal welfare through a legal lens yet tackles issues broadly and effectively. She has always felt a strong connectivity with animals, and professionally, she is drawn to the public policy realm. While in Law School, Kim was president of the school's Animal Legal Defense Fund Student Chapter. Over the years, Kim has presented numerous CLEs including "Trends in Animal Legislation and "Legal Issues Affecting Owners of 'Dangerous' Dogs."
An East Coast native, Kim currently resides in San Diego where she enjoys traveling and being active alongside her family.  She and her husband, Kyle have three children, a cat named Andy and two rescue dogs: Kira and Rowdy, Kim's sidekick. 
Alicia Prygoski
Legislative Affairs Manager
Animal Legal Defense Fund
Legislative Affairs Manager, Alicia Prygoski works to pass laws that help animals and defeat legislation that harms them.
Before joining the Animal Legal Defense Fund, Alicia worked as a public policy coordinator for farmed animal protection at the Humane Society of the United States and as a policy associate at the Animal Welfare Institute. At both organizations she worked to enhance protections for farmed animals across the country and contributed to passing a ballot initiative in Massachusetts and legislation in Rhode Island banning the extreme confinement of animals in factory farming operations.
Alicia has a Bachelor of Arts in Environmental Policy from the University of Michigan and a law degree from Western Michigan University-Cooley where she founded and ran the school's Animal Legal Defense Fund student chapter. In 2016 she received the Wanda A. Nash Award from the State Bar of Michigan Animal Law Section for advancing animal law in the state.
She now lives in Washington D.C. with her fiancé Luke and Patches, her five-year-old rescue dog who can't contain his excitement when meeting new people and other dogs.
David Rosengard
Senior Staff Attorney
Animal Legal Defense Fund
As a senior staff attorney in the Animal Legal Defense Fund's Criminal Justice Program, David work with stakeholders across the criminal justice system to pursue justice on behalf of animal cruelty victims. One of his focus areas is amicus briefs, where he raises appellate-level arguments aimed at enabling courts to reach decisions that not only address the needs of the animals involved in individual cases, but to also better position animals as a whole within the law. David additionally helms the Animal Legal Defense Fund's groundbreaking work helping animals who have been harmed by criminal cruelty achieve the legal status of crime victims, including efforts to expand Courtroom Animal Advocate Programs which allow pro bono attorneys and law students to act as counsel for those animal crime victims in court.
David co-edited and contributed to the second edition of Animal Law in a Nutshell and has published law review articles aimed at assisting prisoners in securing vegan meals ("Three Hots and a Cot and a Lot of Talk": Discussing Federal Rights-Based Avenues for Prisoner Access to Vegan Meals) as well as illuminating the critical impact legal recognition of animal sentience has on constitutional considerations (A Dog is Not a Stereo: The Role of Animal Sentience in Determining the Scope of Owner Privacy Interests Under Oregon Law). David also teaches animal law at his alma mater—Lewis & Clark Law School, where he graduated twice with honors, as both a J.D. and an Animal Law LL.M. student. While a student at Lewis & Clark Law School, David clerked for the Center for Animal Law Studies, Co-Directed L&C's Student ALDF chapter, worked in Kenya on wildlife and animal cruelty issues, was an Animal Law Review Editor-in-Chief, and represented the state of Oregon in criminal court on behalf of the Multnomah County District Attorney's Office as a certified law student.
Prior to embarking on his legal career, David earned a B.A. with honors in History and Gender Studies from Claremont McKenna College, and worked in higher education, where he focused on sexual assault prevention and response, peer counseling, crisis management, co-curricular education, sex-blind housing programs, and community justice.
David lives in Saint Helens, Oregon with his spouse and a bevy of rescue animals: two cats (Aldor and Papaya) and three dogs (Ace Octavus, Ellie May, and Puck).
Vanessa Shakib
Co-Founder and Co-Director
Advancing Law for Animals
Vanessa is an expert in animal law, government accountability, and illegal business practices. She co-founded and co-directs Advancing Law for Animals, a non-profit law firm for our non-human friends. There, she develops impact litigation to further the interests of animals exploited in research and industrial food production. Vanessa regularly presents talks as an invited expert in animal law both nationally and abroad.
Prior to animal law, Vanessa specialized in illegal taxation, consumer protection, and inverse condemnation, among other practice areas. Her track record in government oversight informs her work at Advancing Law for Animals, where she has successfully challenged cruel and illegally-promulgated regulations at the federal level, and lack of animal-welfare enforcement at the local level. Vanessa continues to consult on a variety of legal matters through her private practice, Shakib Law, PC.
Cristina Stella
Managing Attorney
Animal Legal Defense Fund
As a managing attorney at the Animal Legal Defense Fund, Cristina Stella litigates on behalf of farmed, wild, and captive animals who are subjected to systemic cruelty and exploitation in commercial industries. Her cases primarily focus on increasing transparency in the industrial agriculture system and challenging industrial agricultural practices that harm animals, the environment, and public health.
Before joining the Animal Legal Defense Fund Cristina spent five years as an attorney with the Center for Food Safety in San Francisco, where she litigated cases against the federal government to improve its oversight of the U.S. food system, and advocated for more humane, transparent, and sustainable food production practices. Cristina also teaches Animal Law as an adjunct professor at the University of California, Davis School of Law, and has previously taught at the University of San Francisco School of Law. ​She began her legal career as a law clerk for the Supreme Judicial Court of Maine.
Cristina is co-author of the investigative report, America's Secret Animal Drug Problem: How Lack of Transparency is Endangering Human Health and Animal Welfare, and has appeared on CBS News and in the documentary film What the Health? Her work has been covered in The New York Times, the Chicago Tribune, Mother Jones, and Politico​, and she has been quoted in The New York Times, The Washington Post, the San Francisco Chronicle, and VICE News.
Cristina graduated with honors from Georgetown University Law Center in 2011 and earned her undergraduate degree magna cum laude from Villanova University in 2007. She is admitted to practice in New York and California. ​Prior to becoming a lawyer, Cristina managed a nonprofit partnership between small-scale farmers and communities with low incomes in Portland, Oregon.​
Claire Tonry
Partner
Smith & Lowney PLLC
Claire Tonry earned her J.D. and certificate in Environmental and Natural Resources Law, with a focus in Animal Law from Lewis & Clark Law School in 2009, and holds a B.A., with honors, in Environmental Studies and Economics from the University of Oregon.
Claire's practice uses a wide range of legal tools to restore the environment, protect voters and consumers, and advance progressive policies. Whether she is enforcing the Clean Water Act or fair election regulations, the Endangered Species Act or open government laws, she is thoroughly committed to getting the best possible outcome for her clients.  "My clients' causes are my personal causes as well.  I bring a level of passion and work ethic that reflects the importance of my clients' missions," she says.
Claire has been recognized by Super Lawyers as a Rising Star in environmental law.
Daniel Waltz
Senior Staff Attorney
Animal Legal Defense Fund
As a senior staff attorney for the Animal Legal Defense Fund, Daniel Waltz develops creative legal strategies to advocate for improved welfare and increased protections for animals. Daniel first worked with the Animal Legal Defense Fund as a litigation fellow from 2012 to 2014 when he participated in Kuehl v. Sellner, which eventually set a legal precedent to protect endangered animals in captivity.
He then went on to spend two years at Georgetown University Law Center's environmental law clinic, and two years as a staff attorney at The Humane Society of the United States before returning to the litigation team where he first started.
He has a B.A. from Tufts University, J.D. from New York University School of Law, and LL.M in Advocacy from Georgetown University Law Center. He lives in Washington D.C. with his wife Casey, and Tippy, their special needs eight-pound rescue dog. When he's not fighting to free animals from harm, Daniel likes to spend time outdoors playing ultimate Frisbee, hiking, or riding his bike with Tippy inside his backpack.
Stephen Wells
Executive Director
Animal Legal Defense Fund
Stephen Wells is the executive director and CEO of the Animal Legal Defense Fund. Since 1990, Stephen has been a leader in the nonprofit wildlife conservation and animal protection movements.
Stephen grew up in Chicago, where he grew a successful business serving the city's expansive manufacturing and industrial sector. A passion for outdoor adventure led him to sell the business and move to Alaska to be closer to nature. There he worked on the cleanup in the aftermath of the Exxon Valdez oil spill, an experience that convinced him to dedicate his life to protecting the planet's remaining wildlife and wild lands. After serving on the boards of two conservation organizations in Alaska, Stephen was hired as executive director of the Alaska Wildlife Alliance. Under his watch, the organization more than doubled in size, and Stephen became well-known for his work to protect Alaska's native wildlife, particularly its wolves and bears, and their habitats.
Stephen moved to California and joined the Animal Legal Defense Fund's staff in 1999. Almost immediately, Stephen pioneered new strategies to advance animal protection under the law, including launching the organization's law student chapter program and pro bono firm network. Today, the Animal Legal Defense Fund has student chapters in more than 200 law schools, and more than 450 law firms have signed up to donate more than $4 million in legal work to support its mission annually.
Stephen became the executive director and CEO of the Animal Legal Defense Fund in 2006, succeeding its founder, Joyce Tischler. Under his leadership, the nonprofit has more than quadrupled in size and has become renowned as the pre-eminent legal animal advocacy organization in the country, and a force to be reckoned with by animal abusers and animal exploitative industries, including the single largest source of animal abuse, factory farming.
Never losing sight of his desire to build strong and effective coalitions, in addition to working with other animal protection organizations, the Animal Legal Defense Fund has successfully partnered with law schools, environmental protection, food safety, public health and civil rights organizations, and has built strong relationships with companies that are creating humane products to replace those dependent on animal exploitation.
Maintaining a love for entrepreneurial ventures and the role that business can play in creating humane alternatives for consumers, Stephen founded and helped run a plant-based and organic restaurant in his hometown of Guerneville for five years.
Stephen continues his love of nature and the outdoors and enjoys hiking and exploring near his home in the redwoods of western Sonoma County. He is also an avid sailor and enjoys riding the winds in San Francisco Bay, where he loves to take friends out to view whales, porpoises, sea birds and other marine wildlife. He currently shares his home with his two rescued cats, Ocho and Rumor.
Delcianna Winders
Assistant Clinical Professor of Law and Animal Law Litigation Clinic Director
Center for Animal Law Studies at Lewis & Clark Law School
As Assistant Clinical Professor and Clinic Director, Delcianna J. Winders leads the newly formed Animal Law Litigation Clinic at Lewis & Clark Law School, the first and only clinic in the U.S. focused specifically on animal law litigation and on farmed animals. The clinic will advocate for farmed animals through cutting-edge lawsuits to establish and expand legal protections and legal rights for farmed animals.
Winders previously served as Vice President and Deputy General Counsel for the PETA Foundation, where she oversaw a team of a dozen lawyers, veterinarians, scientists, and support staff working to further legal protections for captive wildlife through litigation, legislation, and work with administrative and law enforcement agencies. PETA pushes for fundamental rights for animals and brought the first-ever constitutional claim on behalf of animals in the U.S. when it sued SeaWorld for holding wild-caught orcas as slaves in violation of the 13th Amendment, as well as the first-ever case asking a court to declare an animal the owner of intellectual property rather than an owned piece of property himself when it brought suit on behalf of Naruto, the macaque who took the famous "monkey selfie."
Winders also worked as the Director of Legal Campaigns for Farm Sanctuary, the nation's leading farm animal advocacy organization, and as an associate at Meyer Glitzenstein & Crystal (since renamed Meyer Glitzenstein & Eubanks), which Washingtonian magazine named the "most effective public-interest law firm in Washington, D.C." Prior to that, she served as law clerk for the Honorable Martha Craig Daughtrey of the U.S. Court of Appeals for the Sixth Circuit. Winders is a graduate of the New York University School of Law, where she was senior notes editor of the New York University Law Review, awarded the Vanderbilt Medal for outstanding contributions to the law school, named as a Robert McKay Scholar, and persuaded the school to add an animal law course.
In addition to her advocacy work Winders is a leading animal law scholar, with articles published by numerous top-ranked law review journals and op-eds published in a host of national news outlets. She currently teaches Animal Welfare Law at Vermont Law School, was a 2018 Haub Visiting Scholar at the Elisabeth Haub School of Law at Pace University, and was the first-ever academic fellow in Harvard's Animal Law & Policy Program. She has also taught at Tulane University School of Law and Loyola University New Orleans College of Law. Winders has also been interviewed by numerous major news outlets, gives frequent presentations, and was featured in O, The Oprah Magazine as one of "Six Women Who Dare."
Related
Lawsuit asserts the law creates a patchwork of standards that threaten to preclude nationwide sales for plant-based meat producers

November 4th, 2021 12:00pm ET

An international fight to protect Pablo Escobar's hippos from slaughter results in a U.S. federal court order recognizing animals can be "interested persons"