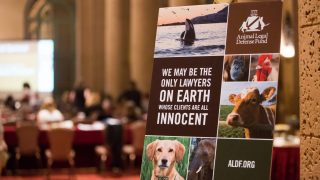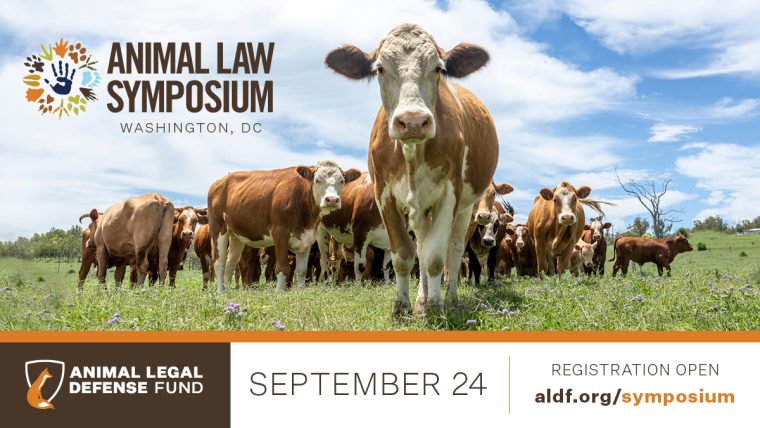 Animal Law Symposium: Washington, DC
Saturday, September 24, 2022
All symposium sessions with be hosted in-person at the Crystal Gateway Marriott in Arlington, VA and will be available via livestream. Registrants will receive livestream access instructions via email one week before the event.
This full-day symposium, co-hosted by GW Law's new Animal Legal Education Initiative, will feature panels discussing recent animal law issues before the courts. Expert panelists will talk about aspects of the upcoming U.S. Supreme Court oral arguments in the California Proposition 12 case; recent cases in the 8th and 10th Circuits holding ag-gag laws (laws that prevent whistleblowers from investigating and revealing the horrific treatment of animals on factory farms) unconstitutional; the recent decision in N.Y. denying habeas corpus relief to Happy, an elephant at the Bronx Zoo; and cases in U.S. and foreign courts seeking to bestow rights on nature and animals.
Agenda & speaker bios coming soon! If you have questions, please contact events@aldf.org.
Continuing Legal Education (CLE) Credits: Continuing Legal Education Credits will be available, pending approval by the Virginia State Bar Association. Credits are included with registration and attorneys must watch all sessions, either live or on-demand, to receive full credit. Most states accept credits from other mandatory CLE states such as Virginia, but please check with your local bar association to confirm your state's reciprocity and reporting rules.
Health & Safety: In an effort to keep attendees, speakers, and event staff as safe as possible, all in-person participants of the Animal Law Symposium will be required to comply with the following protocols. All participants must be fully vaccinated, including booster(s), and provide proof of vaccination during check-in at the event. All participants must also wear a face mask over their mouth and nose at all indoor conference gathering spaces and events, except when presenting, eating, or drinking. We recommend that all participants complete an antigen test prior to attending the conference and not attend in-person if they test positive or exhibit any cold, flu, or COVID symptoms. In addition, participants who test positive for COVID may not attend in-person. If you are experiencing symptoms or test positive before the conference, please contact events@aldf.org. The Animal Law Symposium staff will continue to monitor and comply with all applicable laws and guidance issued by the Centers for Disease Control and Prevention, OSHA, and local health authorities and reserve the right to amend our safety protocols accordingly, and participants agree to comply with any such changes.
Related
Simply defined, animal law is the combination of statutory and case law that relates to or has an impact on nonhuman animals. It encompasses companion animals, wildlife, and animals used in entertainment, research, and raised for food.

In the United States, animal protection laws can be enacted and enforced at every level of government. Most animal protection legislation happens at the state level.

On Saturday, March 28, more than 150 attorneys, law students, and animal advocates came together to attend the first symposium of the Animal Legal Defense Fund's Los Angeles regional attorney network