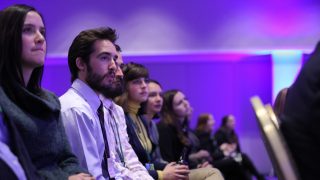 Bailing Out Benji's Second Annual Bark After Dark Gala
September 14, 2019 - 5:00 PM
to September 14, 2019 - 11:00 PM
The Forte
615 3rd St.
Des Moines, Iowa
50309
United States
Join Animal Legal Defense Fund's Staff Attorney, Daniel Waltz, at Bailing Out Benji's Second Annual Bark After Dark Gala!
This semi-formal event will benefit our nationwide advocacy efforts, as well as going towards the vet care of the over 1000 puppy mill dogs we have saved in the last 5 years. Tickets will be $50 each ($75 per couple) and will include admission, dinner, dessert and an open bar. There will be a silent auction and raffle with many donated items, as well as guests from all over the country.
Since our founding in 2011, Bailing Out Benji has educated millions of people about the cruel puppy mill industry through our advocacy efforts- but we couldn't have done this alone. You have been crucial in helping us grow and reach an audience that we have never been able to before. Because of that, we are enclosing your official invitation and a list of sponsorship opportunities before we open them to the public. Every level of sponsorship will receive special benefits, including recognition leading up to and during our Gala. If you are unable to be a sponsor, please consider giving an in-kind donation for our auction and raffle. All donations, including sponsorships, are tax deductible. We sincerely appreciate your ongoing support in helping us give a voice to the animals. If you have any questions, please feel free to contact us at bailingoutbenji@gmail.com.
Contact Name:
Bailing Out Benji
Contact Email:
bailingoutbenji@gmail.com
Registration Information
Related
Lawsuit alleges large dairy company misleads consumers by misrepresenting the source of its milk

Animal Legal Defense Fund partners with National Council of Juvenile and Family Court Judges release a Technical Assistance Bulletin exploring "The Link" between animal cruelty and interpersonal violence.

The California Ecosystems Protection Act has continued to move through the California legislature – has passed the California Assembly and several Senate committees. This critical bill would ban the super-toxic rodenticides that are killing wildlife.