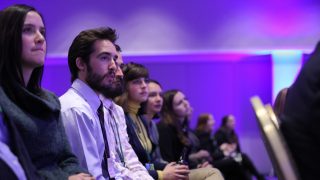 2nd Annual Duke/NCCU/UNC Animal Law Symposium
March 23, 2019 - 8:30 AM
to March 23, 2019 - 1:00 PM
Duke Law School
210 Science Dr.
Durham, North Carolina
27708
United States
The UNC-Chapel Hill, Duke and North Carolina Central Schools of Law's Animal Legal Defense Fund (ALDF) student chapters are proud to partner together this year to host the annual Animal Law Symposium. Join us for a morning of engaging discussions focused around this year's theme of Social Justice & Companion Animals.
Animal Legal Defense Fund's Campaign Manager, Elizabeth Holtz, will present at this event.
The symposium will be held at Duke Law in Durham. A vegan breakfast, coffee, and lunch will be provided to attendees. The event is free, but registration is required.
Contact Name:
Katie Dryden
Contact Email:
kdryden@live.unc.edu
Registration Information
Related
This year's Florida legislative session promises to be one of the busiest yet for animals. The Animal Legal Defense Fund is in the halls of the legislature every day – advocating for animals who would otherwise not have a voice.

California businesses alerted they must comply with the law banning sale of cruelly-produced "gourmet" delicacy

We are deeply disappointed that despite fierce opposition from the public, Iowa has enacted a new Ag-Gag law just months after a federal court struck down a similar Iowa law that criminalized investigations at factory farms, slaughterhouses, and puppy mill