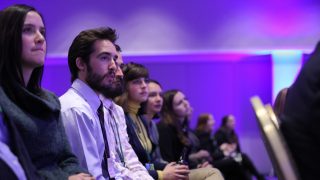 Public Interest Environmental Law Conference
March 1, 2019 - 9:00 AM
to March 3, 2019 - 2:00 PM
University of Oregon School of Law
1515 Agate St
Eugene, Oregon
97403
United States
The Public Interest Environmental Law Conference is the premier annual gathering for environmentalists worldwide, and is distinguished as the oldest and largest of its kind. The Conference historically unites more than 3,000 activists, attorneys, students, scientists, and concerned citizens from over 50 countries around the globe to share their experience and expertise. The Conference is organized solely by the volunteers of Land Air Water (LAW), a student environmental law society at the University of Oregon School of Law, and is co-sponsored by Friends of Land Air Water (FLAW), a non-profit 501(c)(3) organization.
The four-day Conference in Eugene, Oregon, includes over 125 panels, workshops, and multi-media presentations addressing a broad spectrum of environmental law and advocacy. Topics include: forest protection and ecological restoration, grazing and mining reform, labor and human rights, air and water pollution, Native American treaty rights, globalization and "free" trade, environmental justice, corporate responsibility, marine wilderness, international environmental law, water rights and dam removal, oil and gas litigation, genetic engineering, and urban growth.
ALDF will be participating in two panels: "The Public's Right to Know: Important Lessons from Environmental Disclosure Laws" on Saturday at 10:30-11:45am in room LAW 184, and "CAFO Litigation Strategies: Challenging Federal CAFO Funding Practices" on Saturday at 3:00-4:15pm in room LAW 142.
Contact Name:
Cristina Stella
Contact Email:
cstella@aldf.org
Registration Information
Related
The Animal Legal Defense Fund is offering our assistance in investigating the death of a zebra who died after being left out in last week's record breaking subzero weather in northern Indiana. We also renew our call for stronger animal protection laws.

In January 2019, the National Council of Juvenile and Family Court Judges (NCJFCJ), in partnership with the Animal Legal Defense Fund hosted the first-ever formal judicial convening focused on animal cruelty cases.

Florida residents: Ask Representative Eskamani to sponsor the Florida Orca Protection Act.