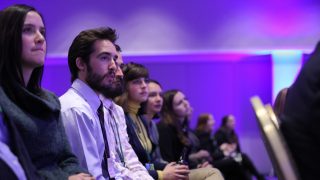 Animal Legal Defense Fund's 12th Annual Animal Law Reception at AALS
January 4, 2019 - 5:30 PM
to January 4, 2019 - 7:30 PM
Hilton New Orleans Riverside, Pelican Room (Riverside Building)
2 Poydras Street
New Orleans, Louisiana
70103
United States
The Animal Legal Defense Fund invites you to join us at our 12th Annual Animal Law Reception at The Association of American Law Schools (AALS) Annual Meeting for drinks and tasty hors d'oeuvres. Whether you're attending AALS or simply live in the area, this reception is a great opportunity to meet staff members from the Animal Legal Defense Fund's Animal Law Program, network with like-minded supporters and hear about our latest legal victories.
If you plan to attend, please RSVP via Eventbrite (https://www.eventbrite.com/e/12th-annual-animal-law-reception-at-aals-registration-52838465272) by December 31st, 2018.
We hope to see you there!
Contact Name:
Elaina Gavounas
Contact Email:
egavounas@aldf.org
Registration Information
Related
This week the Farm Bill was approved by the U.S. House and Senate. The bill includes important provisions that will protect animals, and most importantly, does not contain the King amendment.

This week, a coalition of organizations, led by the Animal Legal Defense Fund, filed a lawsuit challenging a 2016 decision by the U.S. Department of Agriculture (USDA) Farm Service Agency (FSA) to exempt some factory farms from critical environmental laws.

On Monday, Dec. 17, the Ninth Circuit Court of Appeals in San Francisco will hear oral arguments from the Animal Legal Defense Fund in the lawsuit against the USDA for removing tens of thousands of animal welfare records from the agency's website.