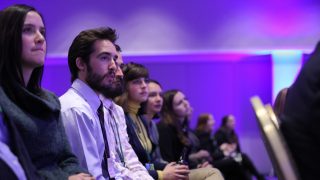 Examination of the Animal Enterprise Terrorism Act
February 26, 2020 - 5:30 PM
to February 26, 2020 - 9:00 PM
NYU Law School
40 Washington Sq. South, Vanderbilt Hall Rm 220
New York, New York 10012
United States
This event at NYU Law school is a 3-credit CLE for Lawyers, but free to all law students.  The three speakers will by discussing the AEPA, Patriot Act, AETA, before deep-diving into three cases in which animal rights activists were charged with terrorism.  The first group was SHAC, followed by Buddenberg (the AETA-4) and finally Johnson & Lang (mink rescue).  These cases will be analyzed by Rachel Meeropol of the Center for Constitutional Rights who was deeply involved in each of these defenses.  Finally we will examine lobbying efforts to repeal this Act.
Contact Name:
Tamara Bedic
Contact Email:
tamara_bedic@yahoo.com
Registration Information
Related
Animal Legal Defense Fund recognizes animal protection heroes during National Justice for Animals Week

Animal Legal Defense Fund lawsuit charges Special Memories Zoo with illegally mistreating lions, tigers, gray wolves, and other animals

On Tuesday, January 28th, the Animal Legal Defense Fund and the Humane Society of the United States hosted our first joint Florida Humane Lobby Day.