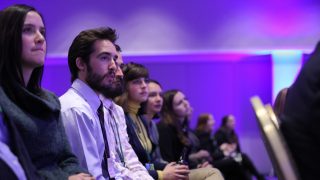 University of Arkansas School of Law – The Animal Rights Speaker Series by the Proubasta-Liner Endowed Distinguished Speaker Award
January 26, 2022 11:45 AM to January 26, 2022 12:45 PM
CT – Central Time
E.J. Ball Courtroom at the University of Arkansas School of Law
1045 W Maple Street Fayetteville, Arkansas 72701 United States
The Animal Rights Speaker Series by the Proubasta-Liner Endowed Distinguished Speaker Award welcomes Animal Legal Defense Fund Executive Director Stephen Wells!
The University of Arkansas School of Law and the Animal Legal Defense Fund Student Chapter in the School of Law identify and bring a distinguished speaker or joint speakers — who possess academic expertise and/or are nationally recognized in the area of animal rights law or animal sentience — to the School of Law each year.
The purpose is to introduce law students and other interested parties to existing animal protection laws, animal rights, litigation techniques, animal sentience, legal research, and other topics focused on serving the interests of the animals and their human advocates under present law and going forward, and to provide in-depth knowledge and forward-looking ideas on animal rights as they now exist.
The speaker series has been made possible by the generosity of Dolores Proubasta and Christopher Liner who started the Proubasta-Liner Endowed Distinguished Speaker Award.
This year's speaker is the executive director and CEO of the Animal Legal Defense Fund, Stephen Wells. Wells has been a leader in the nonprofit wildlife conservation and animal protection movements since 1990.
Please let us know if you will join us on Wednesday, January 26th, from 11:45-12:45 in the E.J. Ball Courtroom! Vegan lunches will be provided.
Organized by: University of Arkansas School of Law and the Animal Legal Defense Fund Student Chapter
Contact Name: University of Arkansas School of Law and the Animal Legal Defense Fund Student Chapter
Contact Email: law@uark.edu

Registration Information
Related
The Act has authority to protect federally endangered and threatened animals such as the tigers, lions, and ring-tailed lemurs enduring inadequate treatment at Tiger Creek

International Fur Trade Federation agreed to dismiss its appeal, ending case in decisive victory for animals

Class-action lawsuit alleges thousands in California purchased dogs under the false belief they were rescue animals