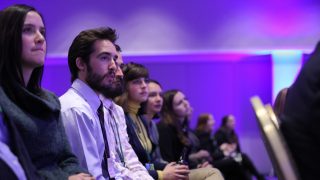 Ban The Crates Rally – Protect the Animals, Environment, and Human Health
December 6, 2021 11:00 AM to December 6, 2021 2:00 PM
ET – Eastern Time
Join Animal Legal Defense Fund Strategic Legislative Affairs Manager, Kathleen Schatzmann and Animal Legal Defense Fund Legislative Affairs Manager, Brian Hackett at an outdoor rally at the New Jersey Statehouse Capitol Annex on behalf of the expansive New Jersey BAN THE CRATES Coalition. Over 50 organizations comprised of business, environment, and animal protection groups have joined in support of the passage of priority legislation, A5236 in the General Assembly and S3401 in the state Senate. This important bill has a strong list of bipartisan cosponsors and will prohibit the use of cruel confinement methods for mother pigs and baby calves in NJ.
This legislation is eight years in the making, already passed twice overwhelmingly, and has the support of over 90% of the residents of the state when polled. Now, this year, we finally have the opportunity to get this bill across the finish line. JOIN US in Trenton as we literally ROLL UP THE RED CARPET on this type of cruelty in our state.
We have an amazing agenda of VIPs and expert speakers to address various topics of importance for the crowd, including how stopping and preventing these types of abusive and dangerous farming methods will safeguard public health, protect the environment, and stop heinous animal cruelty.
Please check out this video: https://youtu.be/Gds7ctCHcIk about this issue, showing why this rally on 12/6 is SO important. JOIN US for this free event to show your elected officials in Trenton that we want them to post A5236/S3401 for full floor votes and advance the bill to Governor Murphy's desk for signature before the close of this session. It is now literally do or die on this priority legislation. Your action and support is urgently needed. Make your voice heard, giving a voice to the voiceless. Innocent animals need us now.
NOTE RE: COVID-19: This event will be outdoors and attendance limited. Masks are encouraged, especially for those who have not been vaccinated. By attending, you acknowledge and accept the risk of possible exposure to viruses and other natural hazards present in any public setting.
Organized by: Animal Legal Defense Fund on behalf of the New Jersey BAN THE CRATES Coalition
Contact Name: Brian Hackett
Contact Email: bhackett@aldf.org

Registration Information
Related
Lawsuit asserts the law creates a patchwork of standards that threaten to preclude nationwide sales for plant-based meat producers

November 4th, 2021 12:00pm ET

An international fight to protect Pablo Escobar's hippos from slaughter results in a U.S. federal court order recognizing animals can be "interested persons"