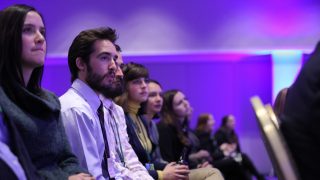 Animal Law and Environmental Law: Parallels and Synergies
March 3, 2021 12:10 PM
to March 3, 2021 1:10 PM
PT – Pacific Time
With its intricate layers of international, federal, and state protections, environmental law is more established than animal law. In What Can Animal Law Learn From Environmental Law? (Environmental Law Institute Press, 2d ed., 2020), Professor Abate has assembled an experienced team of 36 academics, advocates, and legal professionals from the environmental and animal law fields to examine the experiences of these two fields. Drawing on lessons from history, politics, and law, Professor Abate examines how environmental law's successes in several key areas such as enforcement, use of the public trust doctrine, impact assessments, and international law protections can help propel animal law's objectives and how the two fields can work together on topics such as climate change and food law and policy. This presentation will first address some of the key themes of the book's coverage. It will then use provide case studies from the book's chapters to illustrate how animal law can learn from environmental law and how the two fields can work together to secure mutual gains.
Organized by: Lewis & Clark Law School's Animal Law Review
Contact Name: Miranda Eisen
Contact Email: meisen@lclark.edu

Registration Information
Related
The United States District Court for the Northern District of California ruled in favor of the Animal Legal Defense Fund and its co-plaintiffs, denying an attempt by the Food and Drug Administration (FDA) to dismiss a lawsuit against the agency.

A Courtroom Animal Advocate Program (CAAP) bill, S.2868/A.4533, which would allow law students and volunteer lawyers to advocate for animal victims in cruelty criminal cases, unanimously passed the New Jersey Senate. The bill is sponsored by Senator Nicholas Scutari and Assemblyman Raj Mukherji and endorsed by the Animal Legal Defense Fund.

The Animal Legal Defense Fund, the nation's preeminent legal advocacy organization for animals, has released the 15th annual year-end U.S. Animal Protection Laws Rankings Report (2020), ranking the animal protection laws of all 50 states.