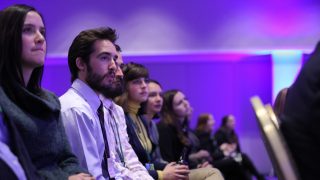 Lewis & Clark Animal Law Review Symposium: The Intersection of Psychology and Law in the Assessment and Treatment of Animal Maltreatment
March 11, 2021 12:10 PM
to March 11, 2021 1:10 PM
PT – Pacific Time
Join Brittany Hill, criminal justice program fellow and Kathleen Wood, staff attorney with the Animal Legal Defense Fund as they present with others on mental health and animal cruelty offenders. Presenters will trace the steps involved in animal maltreatment cases from investigation to assessment, adjudication, and treatment, focusing on the roles of mental health and legal professionals at each stage of the process.
This session is a part of the 2021 Lewis & Clark Animal Law Review Symposium which is hosting a virtual series throughout 2021.
Organized by: Lewis & Clark Animal Law Review Symposium
Contact Name: Josh Masser
Contact Email: sym-animallaw@lclark.edu

Registration Information
Related
The United States District Court for the Northern District of California ruled in favor of the Animal Legal Defense Fund and its co-plaintiffs, denying an attempt by the Food and Drug Administration (FDA) to dismiss a lawsuit against the agency.

A Courtroom Animal Advocate Program (CAAP) bill, S.2868/A.4533, which would allow law students and volunteer lawyers to advocate for animal victims in cruelty criminal cases, unanimously passed the New Jersey Senate. The bill is sponsored by Senator Nicholas Scutari and Assemblyman Raj Mukherji and endorsed by the Animal Legal Defense Fund.

The Animal Legal Defense Fund, the nation's preeminent legal advocacy organization for animals, has released the 15th annual year-end U.S. Animal Protection Laws Rankings Report (2020), ranking the animal protection laws of all 50 states.