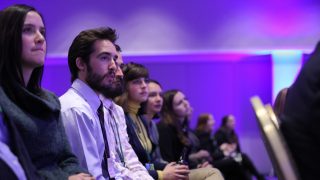 Preserving the Bond and Preventing Cruelty: The Veterinarian's Role
January 21, 2021 12:00 PM
to January 21, 2021 1:15 PM
PT – Pacific Time
Join Emily Lewis, senior staff attorney with the Animal Legal Defense Fund as she presents on the veterinarian's role in preventing animal cruelty.
When a low-income client presents a severely neglected animal to a veterinarian for treatment, the doctor faces a difficult conundrum: is it their duty to protect the animal from continued neglect, or is it their duty to help the person who may be struggling financially to care for their animal? In states where veterinary reporting of animal cruelty is mandatory, the stress this ethical dilemma can put on a veterinarian is significant. Throughout this webinar, the presenters will discuss the veterinarian's role in both preserving the human-animal bond and addressing animal cruelty resulting from poverty.

Contact Name: Justice Clearinghouse
Contact Email: chris@justiceclearinghouse.com

Registration Information
Related
The court's decision ensures Special Memories Zoo is permanently closed following Animal Legal Defense Fund lawsuit

For decades, Fischbacher, with his business partner Roy Horn, ran an infamous Las Vegas show that forced white tigers and lions to perform tricks in front of large audiences.

Representatives Mike Quigley (D-IL) and Brian Fitzpatrick (R-PA) reintroduced the Big Cat Public Safety Act in the U.S. House of Representatives. The House of Representatives voted 272 to 114 to pass the same bill in December.