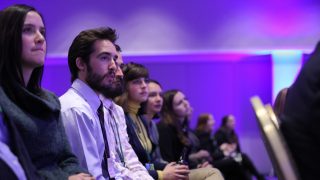 The Link Between Animal Abuse and Domestic Violence, Part 1
October 26, 2020 12:00 PM
to October 26, 2020 1:00 PM
PT – Pacific Time
Please join Kathleen Wood, Staff Attorney and Diane Balkin, Contract Attorney with the Animal Legal Defense Fund as they present on the link between animal abuse and domestic abuse.
Juvenile and family court judges are called on to address and prevent harms by family members against one another. Along with human family members (children, adult partners, seniors), pets are also household members that are at risk of being harmed when interpersonal violence occurs in a family. While research clearly establishes that animal abuse and human abuse are connected, judges may not be aware of the connections or know how to address pet well-being in their decisions in family law cases.
The National Council of Juvenile and Family Court Judges (NCJFCJ) is offering a three-part webinar series to provide training on the links between animal abuse, domestic violence, and elder abuse. The series will also address animal hoarding and its impact on human and animal welfare. The three-part webinar series will provide participants with practical information on recognizing and responding to maltreatment of animals and humans in family law cases.
Judges, attorneys, domestic violence community advocates, and mental health professionals with experience with these cases are featured speakers in the webinars. While primarily oriented to judicial officers, the webinar series is open to all interested stakeholders. Participants may register to attend the entire series or single webinars.
Organized by: The National Council of Juvenile and Family Court Judges (NCJFCJ)
Contact Name: The National Council of Juvenile and Family Court Judges (NCJFCJ)
Contact Email: contactus@ncjfcj.org

Registration Information
Related
Video shows malicious acts of violence toward cows, gross neglect of calves

Dairy Farmers of America supplier caught on video, prompting lawsuit

Lawsuit Challenges Law Designed to Disadvantage Plant-Based Products