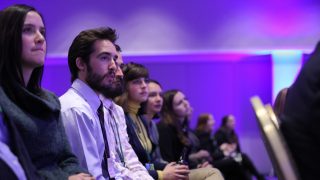 22nd Annual Animal Protection and Wellness Expo
October 29, 2020 9:30 AM
to October 30, 2020 7:15 PM
ET – Eastern Time
Join Emily Lewis, Senior Staff Attorney, David Rosengard, Senior Staff Attorney, and Kathleen Wood, Staff Attorney, with the Animal Legal Defense Fund for presentations at the 22nd Annual Animal Protection and Wellness Expo. Emily will present on Hoarding Animals – Disrupting the Cycle, David will present on Wildlife Law, and Kathleen will present on Cross Reporting and Animal Cruelty.
Growing for the past 22 years, the Animal Protection And Wellness (APAW) Expo – International Virtual Conference 2020, has been successfully uniting a vast cross section of animal law professionals and animal welfare advocates together and showing the importance of each of our roles in protecting animals as well as humans.
THE VALUE OF APAW EXPO – A Virtual Conference:
More than 40 Dynamic Speakers who are leaders in the animal welfare, law and wellness fields
Additional Bonus Classes for you to watch at a later time
A virtual exhibit hall providing one-stop shopping for the latest products, services and organizations
Online access to speaker handouts before and after the conference
Continuing education opportunities
Three Raffles each day to win great prizes
LIVE Q & A during the APAW Expo live dates – October 29 – 30.
On demand access to all content and exhibit booths until January 1, 2021
This is an exclusive opportunity to learn from the experts not only the basics, but also progressive programs.
You will have the opportunity to interact with lawyers, prosecutors, judges, animal welfare organizations, veterinarians, vet techs, animal shelter and rescue/foster professionals, violence interceptors, domestic violence and child advocates, victim's specialist, lawmakers, regulatory agencies inspectors, volunteers, community organizers, and many more.
Organized by: The Animal Protection Society
Contact Name: Stephanie Neimiller
Contact Email: stephanie@theanimalprotectionsociety.org

Registration Information
Related
Video shows malicious acts of violence toward cows, gross neglect of calves

Dairy Farmers of America supplier caught on video, prompting lawsuit

Lawsuit Challenges Law Designed to Disadvantage Plant-Based Products