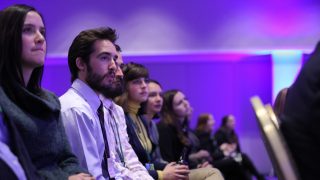 Pro Bono Goes Green: How To Find Pro Bono Work That Helps The Environment!
October 28, 2020 12:00 PM
to October 28, 2020 1:30 PM
ET – Eastern Time
Join Tom Linney, Pro Bono Program Director with the Animal Legal Defense Fund to discuss opportunities for involvement in environmental and climate change initiatives.
All are welcome to join the D.C. Environment and Energy Associations (DCEEA) for a pro bono panel session. With widespread attention increasingly focused on climate change initiatives, many are interested in exploring opportunities to get involved in grass-roots and pro bono efforts. Leading experts in these areas will explore the numerous aspects of and ways to become involved in a variety of types of pro bono work, including litigation, especially those in the form of citizen suits and petitions for rulemaking; advocacy, especially through testifying before government agencies, letter writing to agencies, lobbying, etc.; and hands-on non-legal volunteer opportunities. At the conclusion of their remarks, expert panelists will field questions from participants during a Q&A session.
Organized by: D.C. Environment and Energy Associations (DCEEA)
Contact Name: Environmental Law Institute
Contact Email: events@eli.org

Registration Information
Related
Video shows malicious acts of violence toward cows, gross neglect of calves

Dairy Farmers of America supplier caught on video, prompting lawsuit

Lawsuit Challenges Law Designed to Disadvantage Plant-Based Products