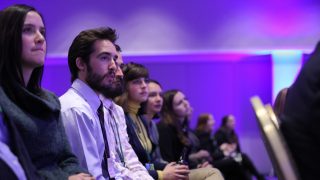 Boston Veg Food Fest
October 24, 2020 10:00 AM
to October 24, 2020 12:00 PM
ET – Eastern Time
Join Stephanie Harris, Senior Legislative Affairs Manager with Animal Legal Defense Fund at the Boston Veg Food Fest, where she'll present on COVID-19 and Animals: How is our treatment of animals linked to future global pandemics?
Whether in person or virtual, the Boston Veg Food Fest brings together a notable roster of top national speakers and chefs, providing a chance to hear acclaimed experts on health and nutrition, and how our food choices impact animals, the earth, and climate change.
Explore our Virtual Marketplace for a great variety of foods, fashion, lifestyle, and personal care products that are entirely from plant sources, and shop online at festival special discounts.
Whether you are a longtime vegetarian or vegan, or someone simply wanting to live more gently on the earth and/or add more delicious plant foods to your meal repertoire–or if you are just curious what it's all about–you are invited!
Organized by: Boston Vegetarian Society
Contact Name: Boston Vegetarian Society
Contact Email: info@bostonveg.org

Registration Information
Related
Video shows malicious acts of violence toward cows, gross neglect of calves

Dairy Farmers of America supplier caught on video, prompting lawsuit

Lawsuit Challenges Law Designed to Disadvantage Plant-Based Products