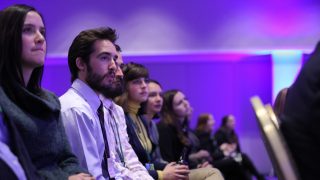 What Can Animal Law Learn From Environmental Law?
September 17, 2020 6:00 PM
to September 17, 2020 8:00 PM
ET – Eastern Time
Join Amanda Howell, Staff Attorney with Animal Legal Defense Fund, for a panel discussion built around the launch of Randy Abate's second edition of his book, What Can Animal Law Learn From Environmental Law.
With its intricate layers of international, federal, and state protections, environmental law is more established than animal law. In his book, Professor Abate examines the experiences of academics, advocates, and legal professionals from the environmental and animal law fields. Drawing on lessons from history, politics, and the law, the book examines how environmental law's successes and shortcomings can inform animal law, and how the two fields can work together to secure mutual gains in the future. This panel presentation examines some of the key topics on lawsuits addressing deceptive advertising and humane washing and challenges to plant-based meat and milk as avenues for enhanced animal protection, as well as how the doctrine of regulatory avoidance from Massachusetts v. EPA may provide a new pathway to challenge USDA inaction in efforts to enhance the welfare of animals in agriculture.
Contact Name: Christopher Wlach
Contact Email: cwlach@gmail.com

Registration Information
Related
As the Animal Legal Defense Fund combats dogfighting by working with state officials to create stronger laws and more effective penalties for those who engage in this crime, we're also hard at work to ensure the best possible outcomes for dogfighting victims.

The Animal Legal Defense Fund, the nation's preeminent legal advocacy organization for animals, and Humane Rescue Alliance (HRA) are offering a $10,000 reward for information leading to the arrest and conviction of the person or people responsible for the abandonment and stabbing of a senior-aged dog named Ladybell on July 12, 2020.

Earlier this summer, the driver of a pig transport truck struck and killed longtime animal advocate Regan Russell. The circumstances regarding her death are not fully known to the public, but top to bottom, the animal agriculture industry is rarely held accountable.