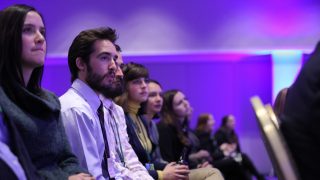 Farmed Animals: Animal Cruelty, Health Impacts, and Strategies Moving Forward 2020
August 20, 2020 12:00 PM
to August 20, 2020 1:30 PM
ET – Eastern Time
Join Jamie Contreras, Senior Staff Attorney with Animal Legal Defense Fund, for a discussion on state animal cruelty laws that apply to farmed animals and the challenges inherent in prosecuting crimes involving farmed animals, with a particular emphasis on Pennsylvania law.
Farmed animals are big business in the United States, with billions of animals raised for consumption every year. Most of those animals are raised on massive factory farms that house thousands of animals, out of public view and with minimal government oversight.  The conditions on factory farms are grim for the animals who live there, giving rise to concerns about animal welfare. They also threaten human health, as the ideal incubators for zoonotic diseases that could lead to future pandemics.
Contact Name: PBI Customer Service
Contact Email: info@pbi.org

Registration Information
Related
As the Animal Legal Defense Fund combats dogfighting by working with state officials to create stronger laws and more effective penalties for those who engage in this crime, we're also hard at work to ensure the best possible outcomes for dogfighting victims.

The Animal Legal Defense Fund, the nation's preeminent legal advocacy organization for animals, and Humane Rescue Alliance (HRA) are offering a $10,000 reward for information leading to the arrest and conviction of the person or people responsible for the abandonment and stabbing of a senior-aged dog named Ladybell on July 12, 2020.

Earlier this summer, the driver of a pig transport truck struck and killed longtime animal advocate Regan Russell. The circumstances regarding her death are not fully known to the public, but top to bottom, the animal agriculture industry is rarely held accountable.