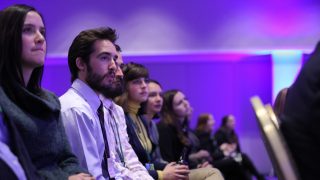 What Judges Need to Know about Animal Cruelty, Child Abuse, and Juvenile Offending – Part II Animal Cruelty and Juvenile Offending
August 10, 2020 12:00 PM
to August 10, 2020 1:00 PM
PT – Pacific Time
Please join Jamie Contreras, Senior Staff Attorney with Animal Legal Defense Fund for a discussion on animal cruelty, child abuse, and juvenile offending.
Through their authority to issue protection and restraining orders, to remove children from abusive homes, and to order youthful offenders into treatment or secure placement, judges use the power of the courts to respond to cruelty and abuse, to protect victims and prevent future harm. Judges also have the opportunity to take measures to safeguard the well being of an overlooked member of the household and the community – pets and animals. To do this effectively, they need to understand the links between behavior involving violence against animals and interpersonal violence.
The NCJFCJ is offering a two-part webinar series to provide judges with practical information and resources for understanding the link and for addressing animal cruelty when it arises in the context of child abuse and neglect cases and juvenile offending cases.
Contact Name: Elisha Harris
Contact Email: eharris@ncjfcj.org

Registration Information
Related
As the Animal Legal Defense Fund combats dogfighting by working with state officials to create stronger laws and more effective penalties for those who engage in this crime, we're also hard at work to ensure the best possible outcomes for dogfighting victims.

The Animal Legal Defense Fund, the nation's preeminent legal advocacy organization for animals, and Humane Rescue Alliance (HRA) are offering a $10,000 reward for information leading to the arrest and conviction of the person or people responsible for the abandonment and stabbing of a senior-aged dog named Ladybell on July 12, 2020.

Earlier this summer, the driver of a pig transport truck struck and killed longtime animal advocate Regan Russell. The circumstances regarding her death are not fully known to the public, but top to bottom, the animal agriculture industry is rarely held accountable.